Ribbon Cutting, Refreshments, and Self-Guided Tours - Home Instead
Wednesday, May 3, 2023 (3:00 PM - 3:30 PM) (EDT)
Description
For more than two decades, Home Instead has been the Tarheel's trusted provider of non-medical home care services in the town that we call home. Services such as companionship, medication reminders, Alzheimer's and dementia care, as well as assistance with personal care tasks are essential to families who are working to help their aging loved ones live lives of independence and dignity. In a world where everything seems to be increasingly impersonal, Home Instead remains committed to the tenets that have made their brand synonymous with exemplary customer service for the past twenty years. At Home Instead- To us, It's personal.
After fifteen years on Fordham Blvd, Home Instead is excited to welcome you all into their new home. While a lot may have changed over the years, their goal remains the same today as it has always been- our four E's: we work to Exceed the Expectations of Everyone they Encounter. They only wish their space was large enough to hold the multitude of our Home Instead Care Professionals who are the true heroes behind the work they do and who are actively engaged each and every day in the work of empowering and enriching the lives of Chapel Hill's most amazing citizens. They hope to see you on May at 3 p.m.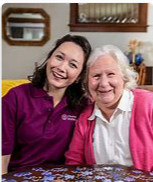 Home Instead
1829 E Franklin St Suite 800E



Chapel Hill

,

NC

27514

United States



Wednesday, May 3, 2023 (3:00 PM - 3:30 PM) (EDT)
Critical Issues
This series of quarterly forums connects Chamber members with influential guest speakers who address timely topics for Greater Chapel Hill-Carrboro and share critical insights related to the economy; economic, workforce, and community development; local elections; and policy and legislative matters that matter to the local business community.
View Schedule
Chapel Hill Young Professionals
Under 40 Monthly Networking
CHYP
CHYP pronounced "chip" is a group of fun professionals under 40 that meets the first Tuesday of each month for networking, professional development and community service. 
Learn More
Women's Networking
Quarterly Socials & Luncheons
Women's Events
Our Chamber's strong group of professional women gather quarterly for networking and learning opportunities. Sponsored by The Women of State Farm. 
Learn More
Ribbon Cuttings
Celebrations of New Business Openings, Anniversaries, and Milestones. 
Ribbon Cuttings
Celebrations and acknowledgement of special milestones for new and existing Chamber member businesses. 
Schedule a Celebration
Friday, February 3, 2023
Come celebrate the successes of our business community from 2022 and get a preview of the exciting developments for 2023. This annual gathering of business and community leaders is a wonderful way to connect and get inspired for the future.
Business Excellence Awards
State of the Community Report
Local Government Appreciation