Introducing the 2022 Town Councils
Introducing the 2022 Town Councils
---
The Chamber and Carrboro Business Alliance congratulate the new and re-elected Mayors and Town Council Members
---
The Chamber and Carrboro Business Alliance congratulate the new and re-elected Mayors (2021-2023) and Town Council Members (2021-2025), who took their oaths of office this week.

Carrboro
Chapel Hill
Mayor Pro Tempore: One of the first orders of business this week was to vote for Mayor Pro Tempore, who presides over meetings and serves on the Mayor's behalf when the Mayor is unavailable. Karen Stegman was unanimously approved as Chapel Hill Mayor Pro Tem and Susan Romaine was unanimously approved as Carrboro Mayor Pro Tem.


---
Introducing the 2022 Town Councils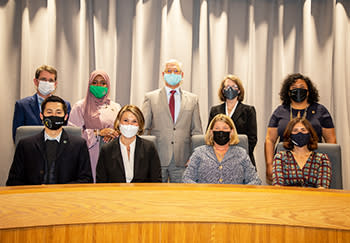 (Carrboro Town Council on left, Chapel Hill Town Council on right)


---
Learn more: Chamber members are encouraged to learn more about the new and re-elected Mayors and Town Council Members' policy positions through their responses on the Chapel Hill Candidate Survey and the Carrboro Candidate Survey, and register to attend and meet local elected and senior government officials at the Salute to Community Heroes and Local Government Appreciation Reception happening next Thursday evening (December 16).
---
Election Hub: The Chamber's Election Hub is a one-stop shop for Chamber members and friends to access the information they need about the candidates and the process before they go to the polls. The Election Hub is now updated to reflect the changing status of the upcoming Spring Primary Election, which has been postponed from March 2022 to May 2022 to give the redistricting challenge more time.
---
About The Chamber: The Chamber For a Greater Chapel Hill-Carrboro (The Chamber) is a membership organization that serves and advances the business interests of Greater Chapel Hill-Carrboro, including the Towns of Chapel Hill and Carrboro as well as southern Orange, northern Chatham, and southwest Durham counties. The Chamber's network includes more than 700 member enterprises that employ more than 95,000 workers throughout the region. Together with its network, The Chamber is committed to building a sustainable community where business thrives. Follow The Chamber on Facebook, Instagram, LinkedIn, Twitter, and YouTube.

About the Carrboro Business Alliance: The Carrboro Business Alliance (CBA), founded in 2014 on the shared belief that "local matters," is now more than 100 local businesses collaborating to help Carrboro thrive. The CBA mission is to 1) connect members with information and customers, 2) promote members and the Carrboro community, and 3) represent local business interests with policy makers. Follow the CBA on Facebook, Instagram, Twitter, and YouTube, and join the conversation with #LocalMatters.
---
Contact: For questions, contact Katie Loovis.
---