Update on Downtown Chapel Hill
Update on Downtown Chapel Hill
---
Update on Downtown
By Katie Loovis
March 11, 2021
This morning, I participated in the monthly meeting of the Chapel Hill Downtown Partnership Board of Directors and I'm happy to report some positive momentum for our downtown despite the many, ongoing Covid challenges.
A few highlights:
Free parking on Saturdays and Sundays and after 6pm in the West End of Franklin Street (hat tip Mayor Pam Hemminger). Here's more information on parking in Chapel Hill, and this website should be updated soon to reflect the new policy, which is in effect until August 15 (only exception being UNC graduation weekend).


UNC Spring Commencement will occur throughout the weekend of May 14-16, 2021 with multiple in-person Covid-conscious, ticketed ceremonies in Kenan Stadium. This additional foot traffic is great news for our local business community, who are ready to safely welcome shoppers and diners.


NC Department of Transportation repaving and restriping project for Franklin Street and Main Street is now postponed to 2022. This is more good news as the road project would have caused business disruptions right when our local enterprises were trying to reopen.


---
Status updates:
Below are excerpts from a thorough update provided by the Executive Director of the Chapel Hill Downtown Partnership, Matt Gladdek. Table 1 is an overview of the status of downtown development projects currently underway and Table 2 is a summary of all the downtown Chapel Hill business that have opened or closed in the last year as well as those business soon to come.
Table 1: Downtown Chapel Hill Development Project Status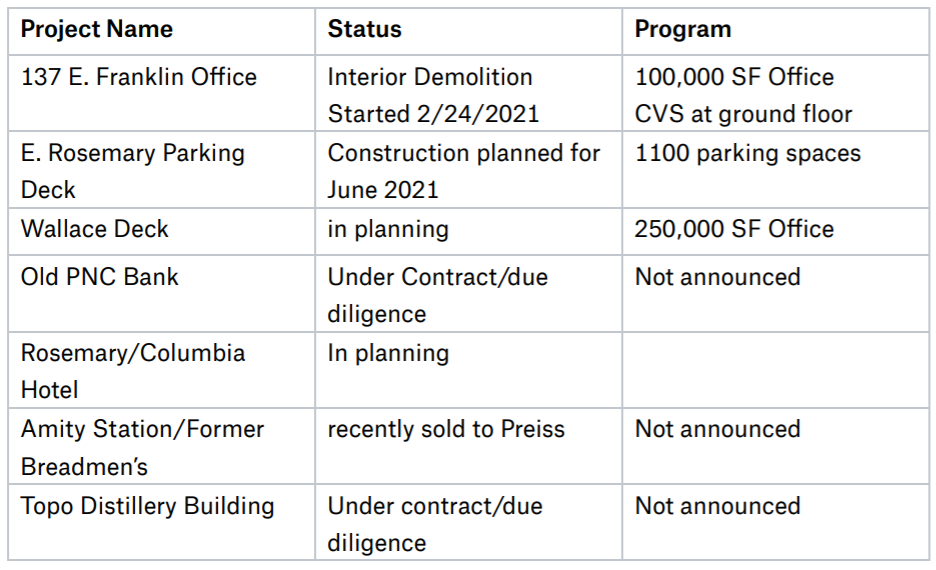 Source: Chapel Hill Downtown Partnership Executive Director Report on March 11, 2021
Table 2: Downtown Chapel Hill Business Openings, Closings, and Comings
Openings
(2020 to present)
Closings
(2020 to present)
Coming Soon!

Chimney (January 2020)
Mogee Tea (January 2021)
Jed's Kitchen (January 2021)
Blues on Franklin
Rent the Row (400 W. Rosemary)
Fifth Third Bank
Gizmo Brewery
Summit Coffee




Francescas
Ivy & Leo
Perennial
Moe's
Lula's
Lotsa Pizza
Ms. Mong's
Princeton Review
Kaplan
Frutta Bowls
Gentleman's Corner
Ye Olde Waffle Shop
Chapel Hill Pilates
Breadmen's
Kipos Greek Tavern

Franklin St. Motors (May projected opening)
The Spindle (Summer 2021)
StillLife (Fall 2021)
Stir Fry to Go (soon)
Source: Chapel Hill Downtown Partnership Executive Director Report on March 11, 2021.
---
Contact: For questions, contact Katie Loovis, Vice President of External Affairs for The Chamber at (919) 696-0781 (cell).
Like what you read? Read more on Our Voice.
---