Monthly Digest for May 2021
Monthly Digest for May 2021
---
Findings from the Regional Economic Development Forum
Our Voice | May Digest
By Katie Loovis on May 3, 2021
The Chamber recently hosted the Regional Economic Development Forum, which unpacked what the Research Triangle Region is and why it matters for us to be part of this globally renowned, multicounty region.
The conversation featured leaders in economic development from our region's core counties (Orange, Durham, and Wake), who shared a timely snapshot of their economic development activities and reflections on the interconnectedness of our region.
Below are the top five takeaways from the forum. Scroll down to enjoy a crisp summary of the discussion, including key slides from our guest speakers and plans for the path ahead.
---
Top Five Takeaways
(Defining the Region) The Research Triangle Region is a dynamic region made up of multiple counties (up to 12 depending on how you count) with Orange, Durham, and Wake Counties at its core, anchored by research universities (UNC in Chapel Hill, Duke and NCCU in Durham, and NC State in Raleigh) and an international airport, and centered with the Research Triangle Park (RTP) - the largest research park in the United States.


(Top Employers & In-demand Jobs) Health Care is the top industry employer in the core of the region (Orange, Durham, and Wake Counties) with nearly 120,000 employees. Right now, there are 65k job opening in the region across all industries, and the three employers recruiting the most workers are in health care: WakeMed (1,200+), UNC Health (1,000), and Duke Health (900).


(RTP Evolution) The Research Triangle Park (RTP) is situated in the center of the Research Triangle Region and is hot with $3.5 billion in new investments and 2,000 jobs created in 2020. The Research Triangle Foundation is modernizing RTP with Frontier, Boxyard, and HubRTP.


(Clusters) Software/IT and Biomedical/Life Science clusters are on fire (think Google, Apple, and FujiFilm Diosynth Biotechnologies). These industry clusters are driving our regional economic development growth.


(Connectivity) Raleigh Durham International Airport was hit hard during the pandemic and will need focus and support going forward as it is a crucial part of our regional value proposition. Also, despite growing hybrid work patterns, connectivity between counties in the region remains critical (i.e., in Orange County, 50,000 people from other counties drive in for work while 40,000 Orange County residents drive out). We must prioritize transit and improve transportation corridors as our region grows.
---
Summary of the Forum
Overview of the Research Triangle Region
The forum started with an overview of the Research Triangle Region by Chamber President and CEO Aaron Nelson, who pointed out that the region could go from three to twelve counties depending on to whom you talk.
For the purposes of his presentation, Nelson focused on the three core counties of the Research Triangle Region (Orange, Durham, and Wake) and pointed out the health care industry leads the region and WakeMed, UNC Health, and Duke Health are the top three employers hiring right now.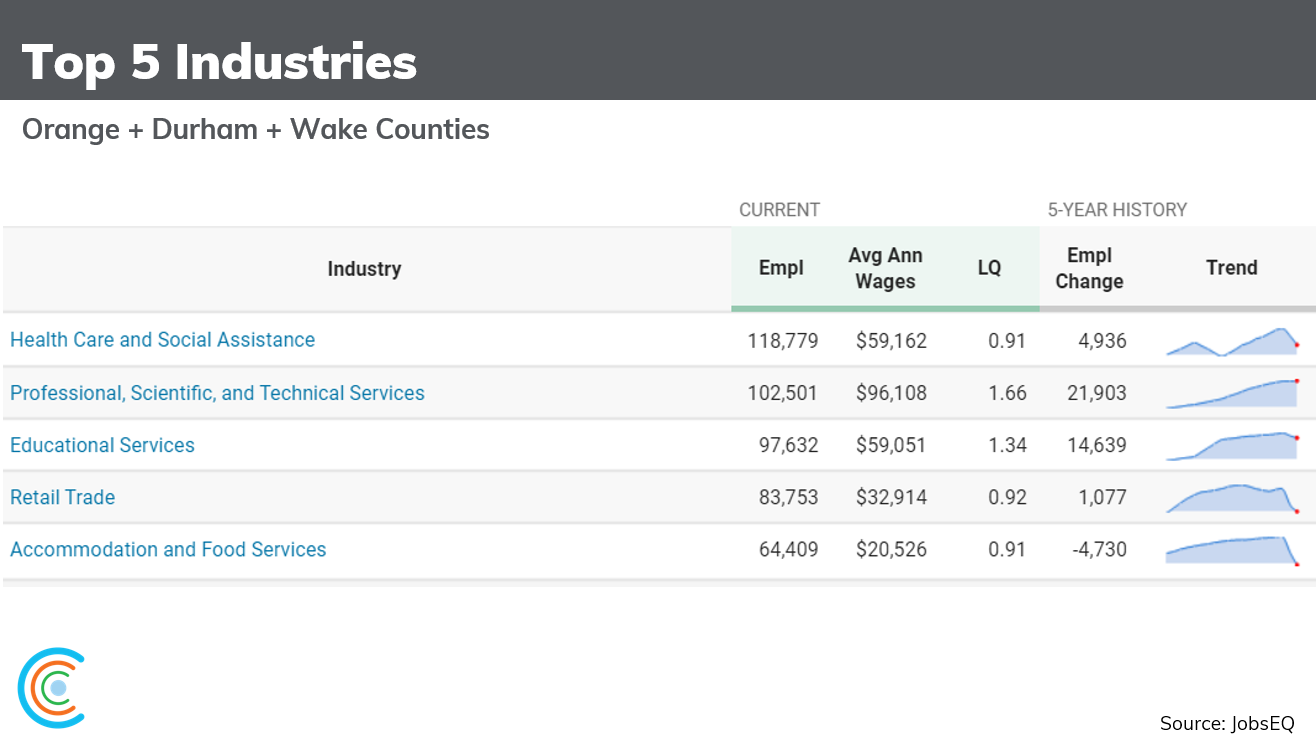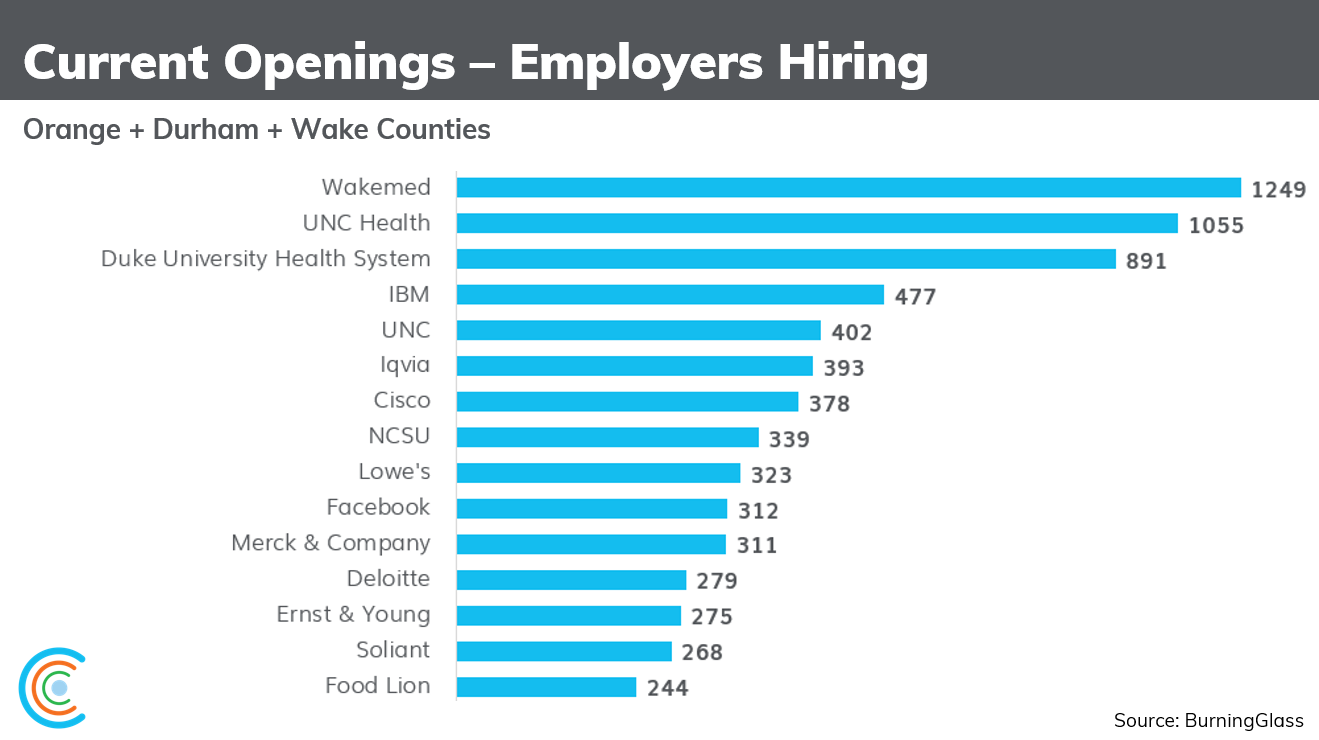 Nelson explained that there are 65k jobs open right now in the Research Triangle Region and health care is in the top sector slot with more than 10,000 jobs available.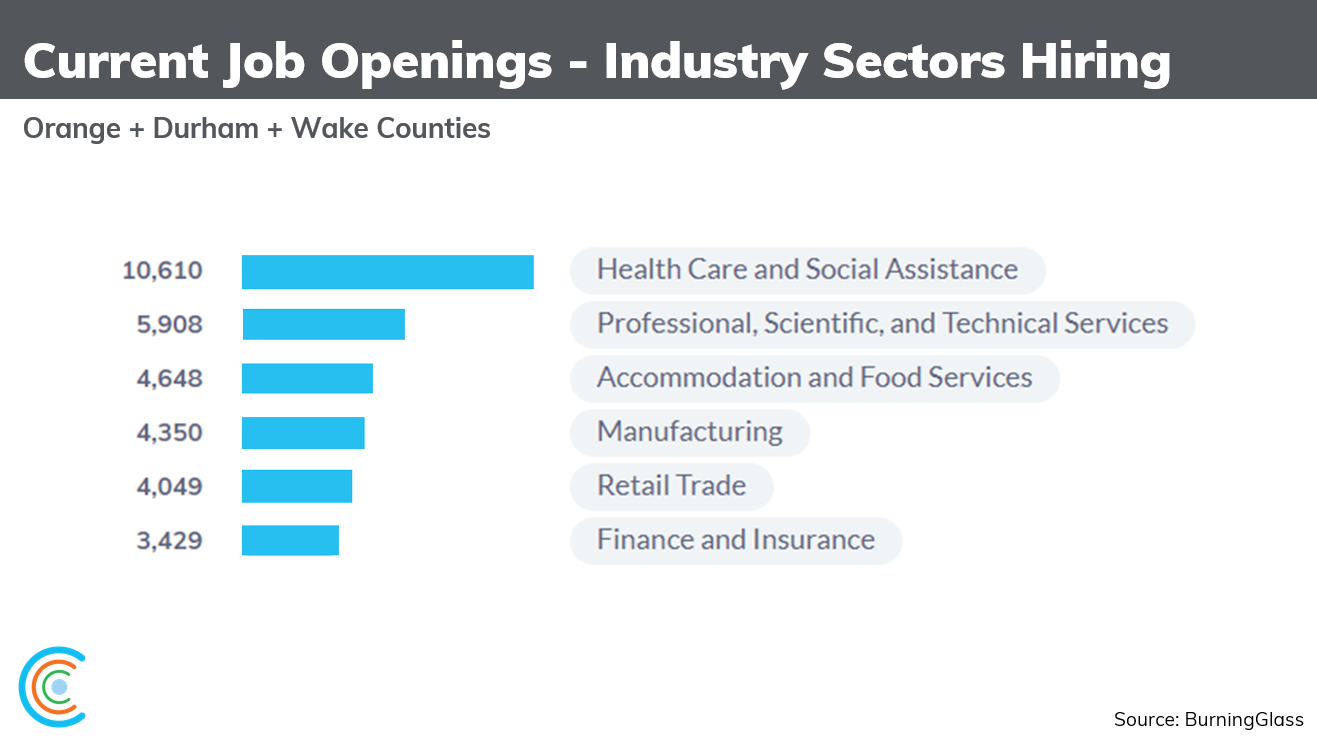 Interestingly, when you look at specific jobs in the Research Triangle Region, the most in-demand are Software Developers followed by Registered Nurses.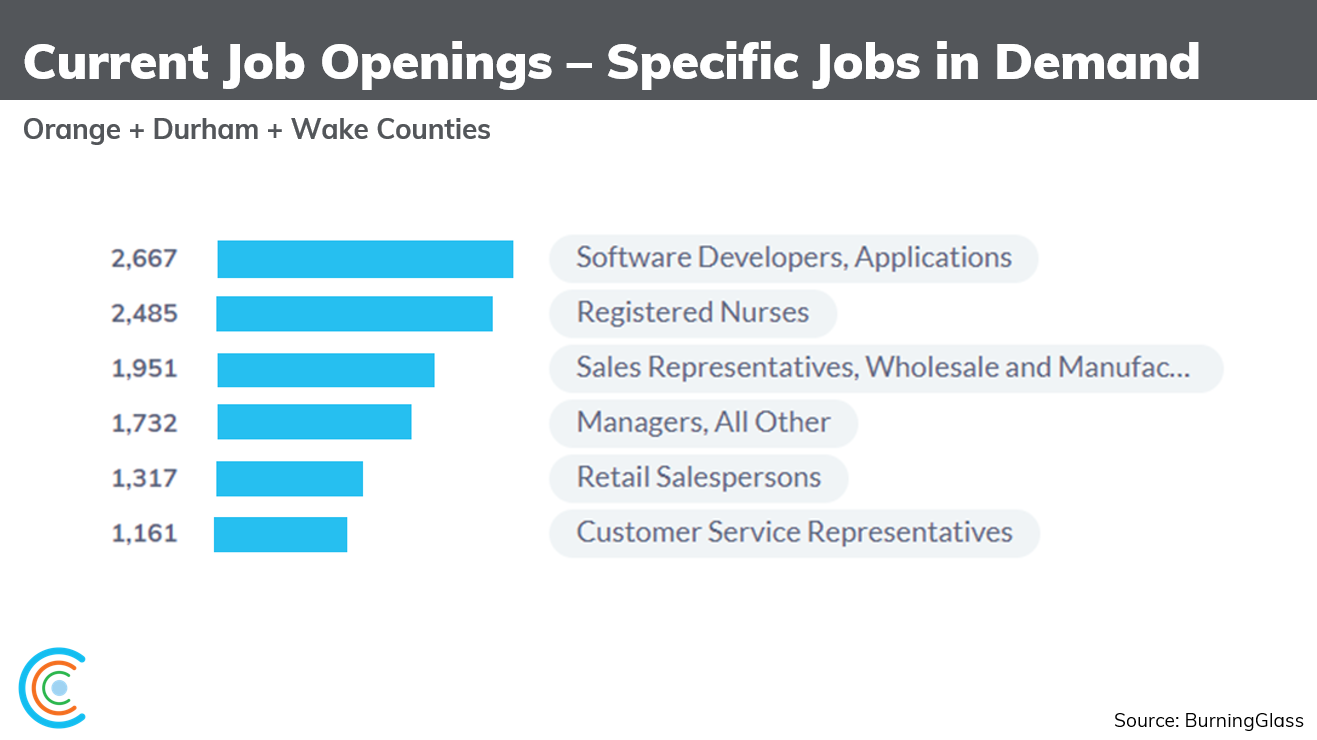 ---
Transportation to and through the Research Triangle Region
When you look at how people move for work throughout the Research Triangle Region, we learn that almost twice as many Orange County workers leave Orange County for work (37k) than stay in the county (20k), but even more workers from other counties come into Orange for work (46k). Most of Orange County residents who leave the county for work head to Durham.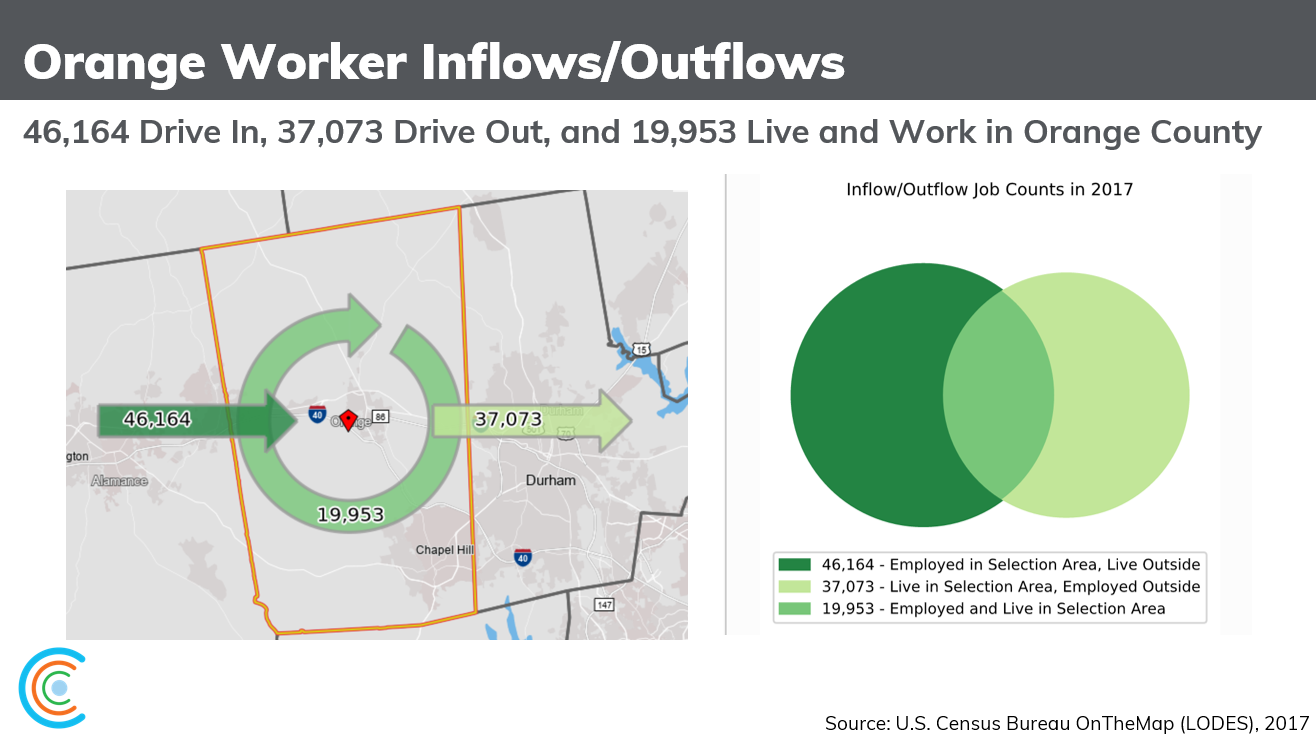 Speaking of how we move through our region, Joe Milazzo, the Executive Director of the Regional Transportation Alliance (RTA), shared the top five transportation priorities for the Research Triangle Region, including shoring-up our international airport (RDU), which is a key driver to our collective success; activating 55 miles of bus rapid transit (BRT) in the next decade; building momentum for an I-40 transit priority shoulder concept; and modernizing the state highway funding model to be less depended on a gas tax.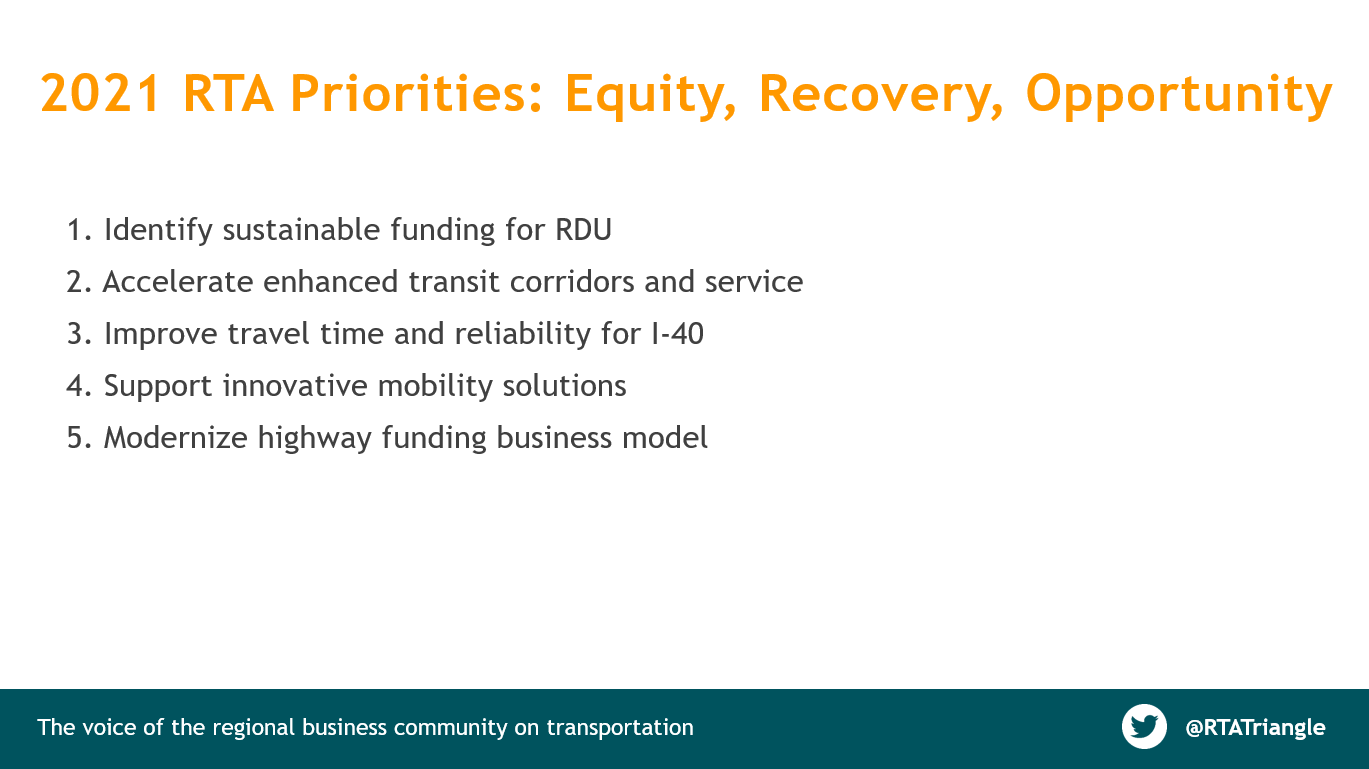 ---
The Research Triangle Park
At the heart of the Research Triangle Region is the Research Triangle Park (RTP). First originated in the late 1950s, RTP has a fresh vision and strong momentum going into the future. Research Triangle Foundation Senior Vice President Ray Trapp shared that the 7,000-acre park with 300 companies and 55k workers is growing with 3.5 billion in new investments and 2,000 jobs created in 2020. Further, the RTP is evolving with Frontier, Boxyard, and HubRTP, which are bringing newly designed live, work, and play space as well as greenspace.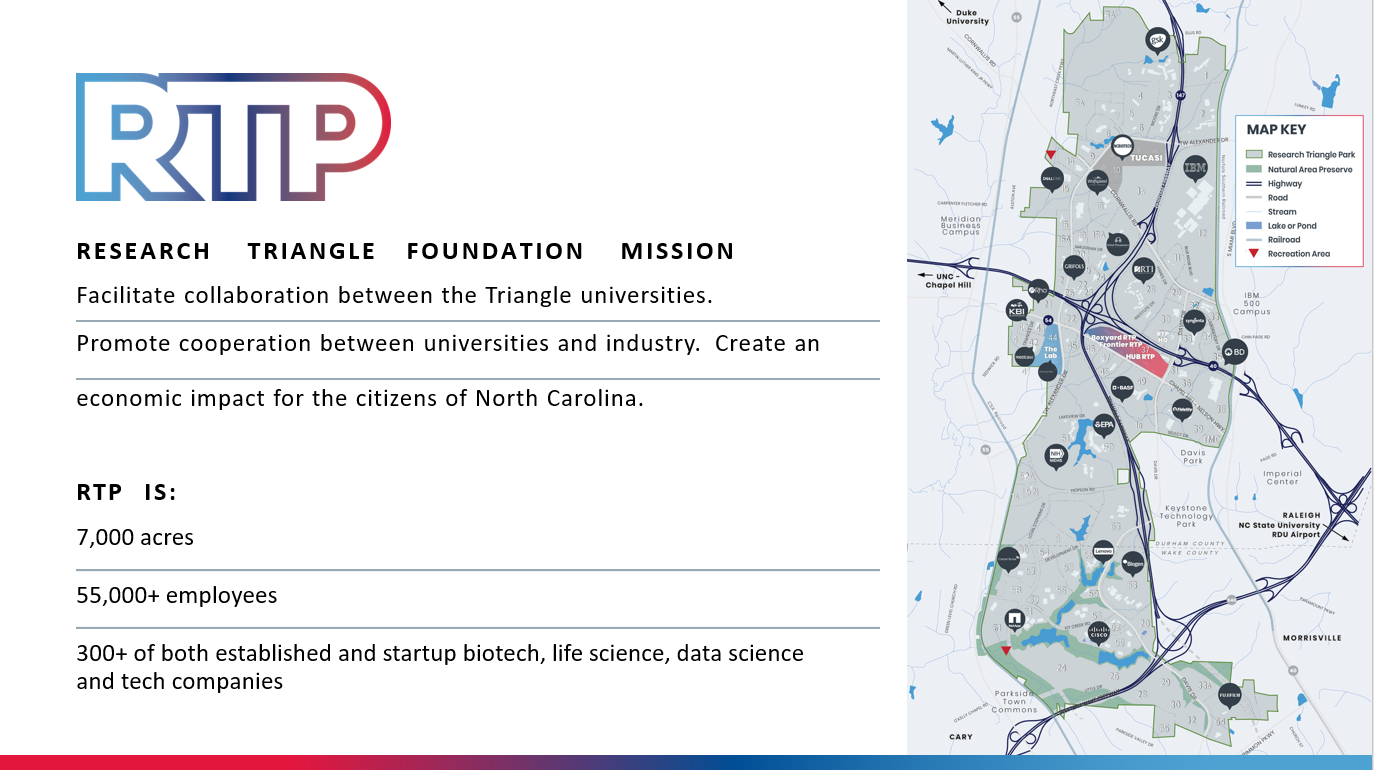 ---
Orange County Economic Development
Taking a county-by-county look, we see that the top industry employers in Orange County are Educational Services and Health Care followed by Retail Trade and Accommodation & Food Service (think "Ed, Med, and Bed").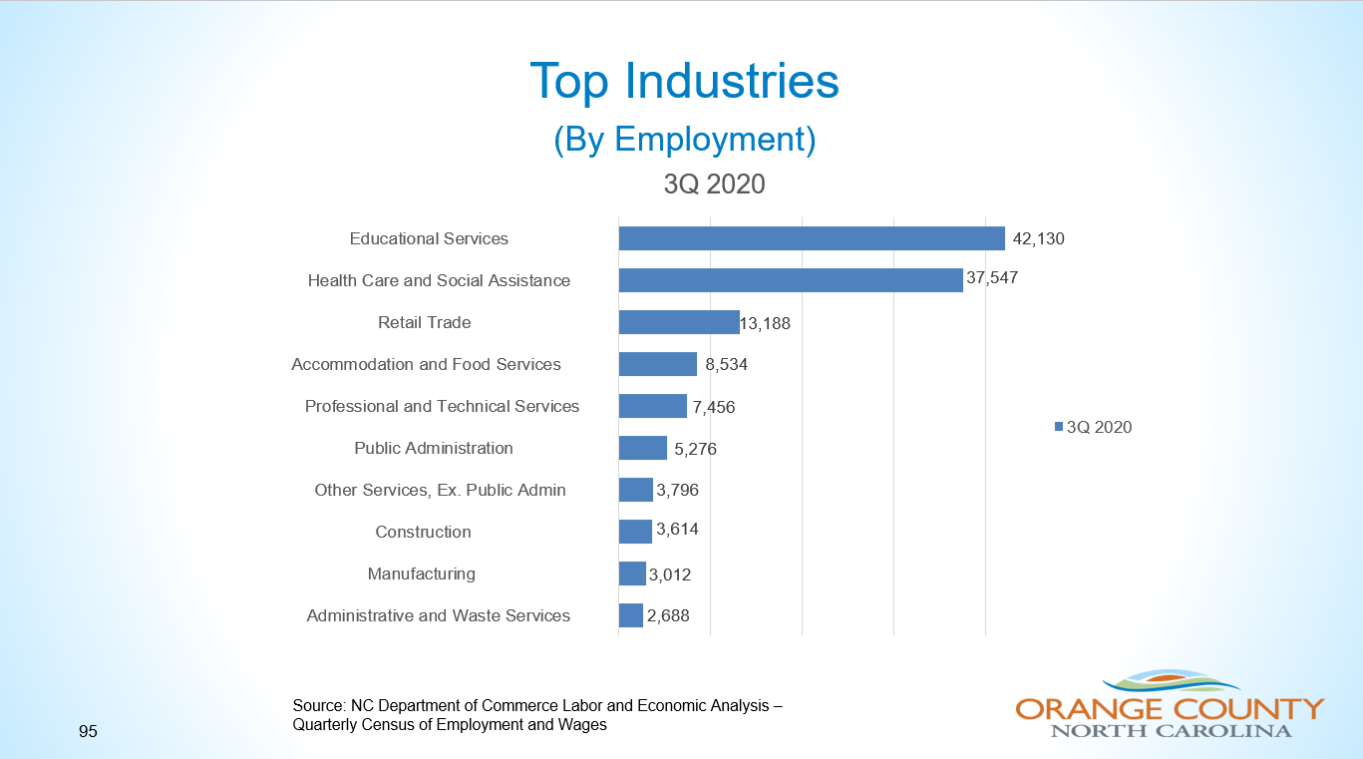 There are three economic development districts to grow the Orange County commercial tax base: the Hillsborough, Buckhorn, and Eno Economic Development Districts. The most successfully developed district is the one with water and sewer (Buckhorn).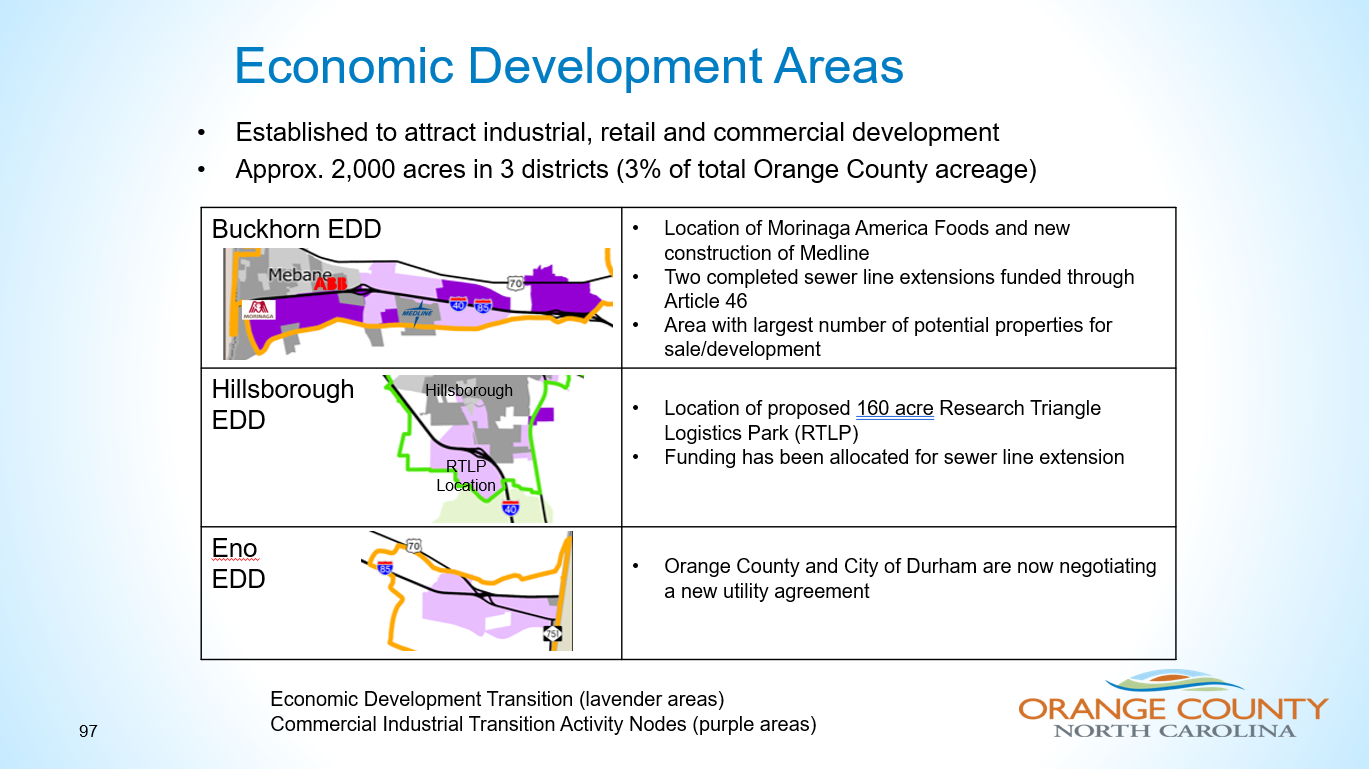 As we consider the recent project announcements in Orange County, Distribution led the way (ABB and Medline) followed by Health (Well Dot) and Retail (Wegmans).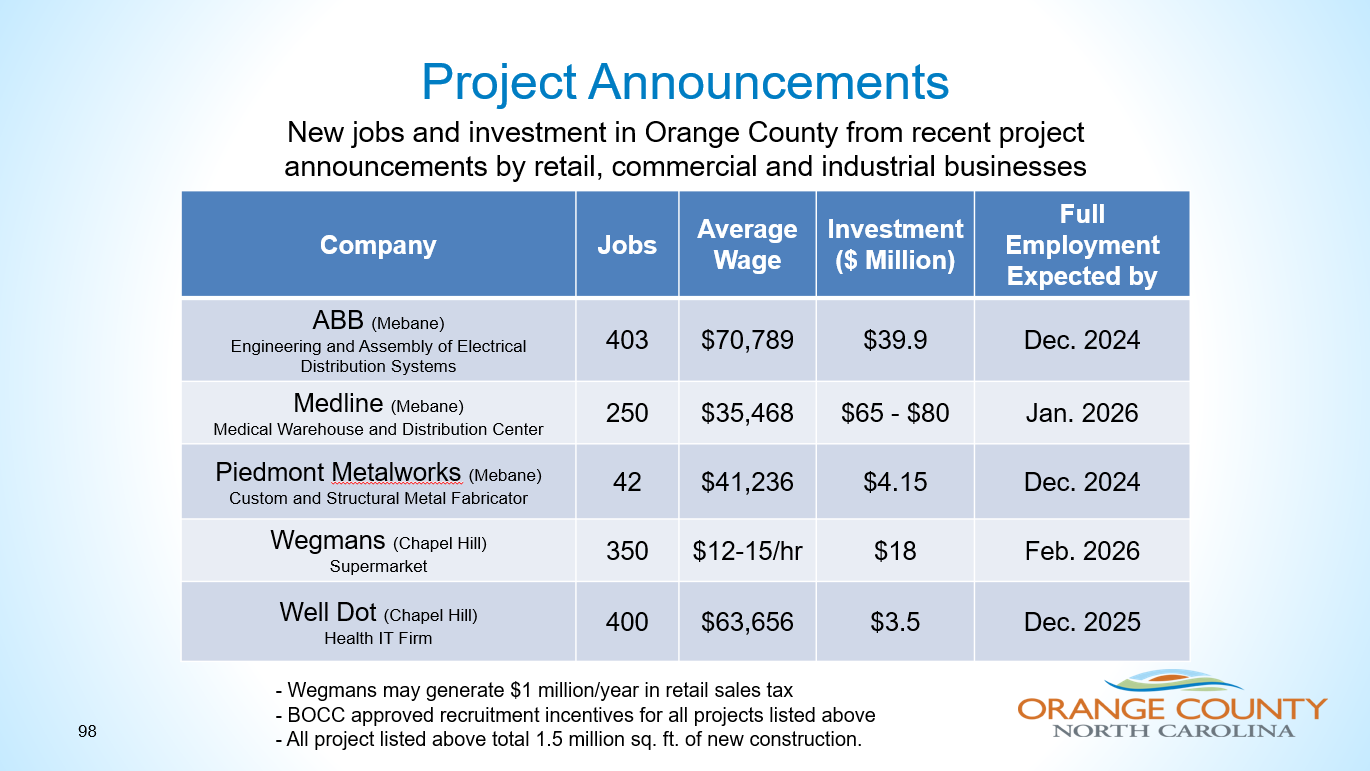 ---
Durham County Economic Development
Durham County targets its economic development to three industry clusters: Life Sciences, Financial Services, and IT/Informatics.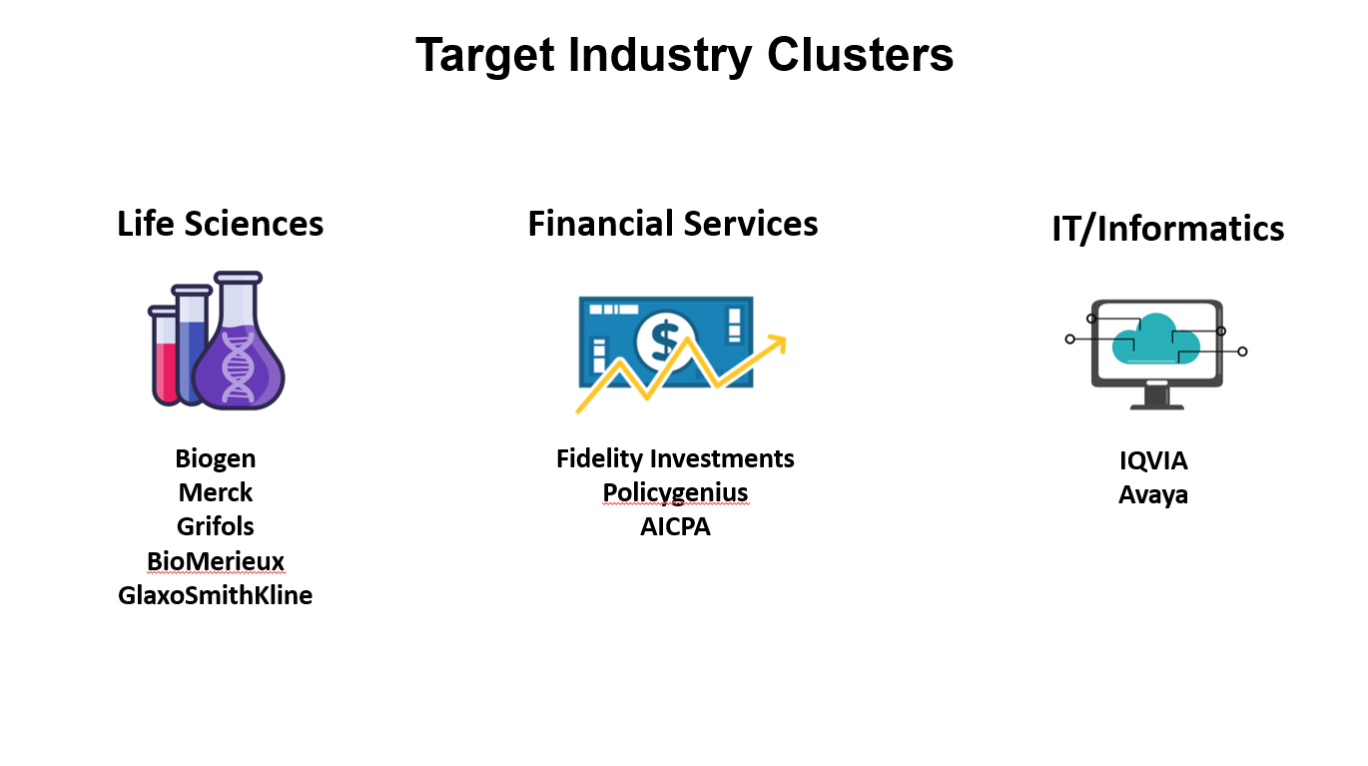 Durham County also has three areas concentrated for commercial development: The Research Triangle Park, Treyburn Corporate Park, and downtown Durham Innovation District, which is known as Durham.ID and is a 14-acre project that combines lab and office space with housing, retail, and open space.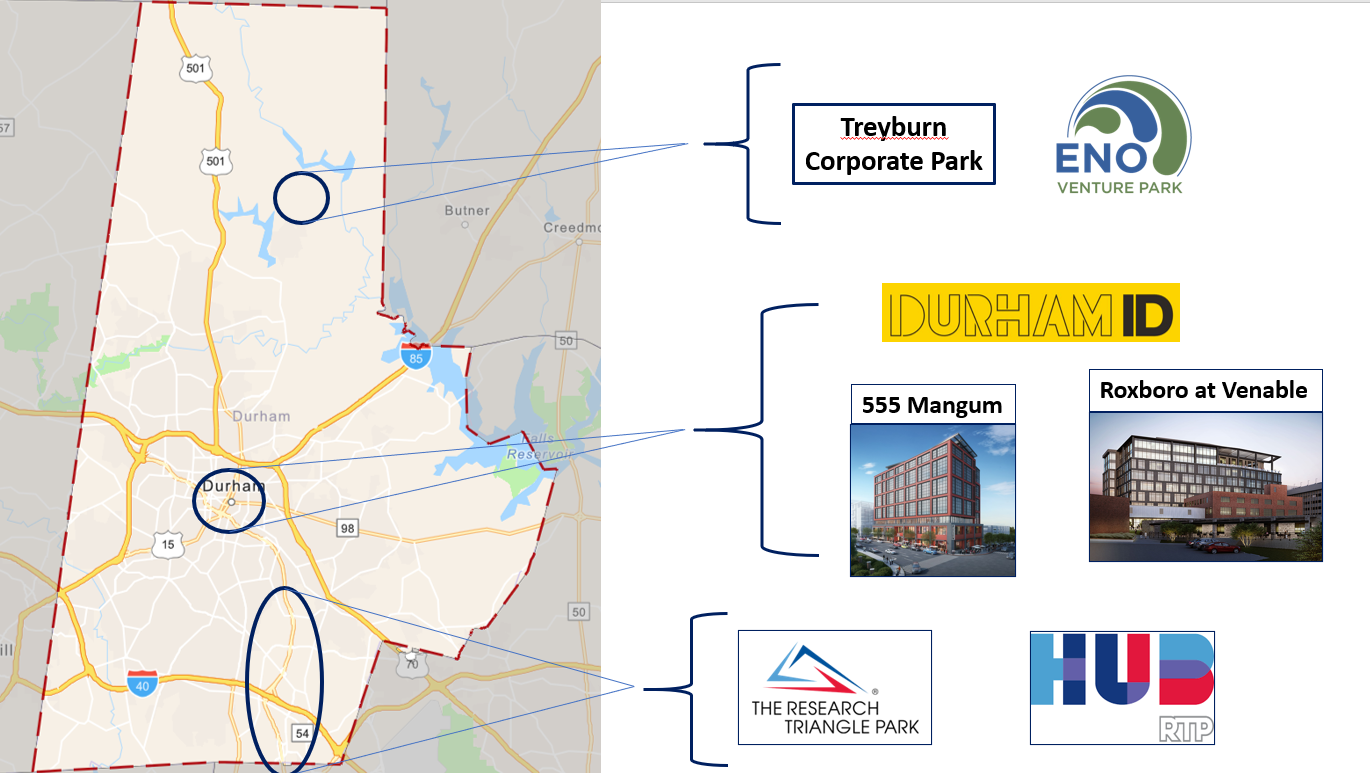 Durham County celebrated several commercial successes in 2021, all within their three target clusters, including Adverum, Biogen, and Merck (Life Sciences), Fidelity (Financial Services), and Google (IT/Informatics cluster). The latter will create a new engineering hub focused on cloud computing in downtown Durham Innovation District that will create 1,000 jobs and is part of Google's $7 billion plan to grow its U.S. operations.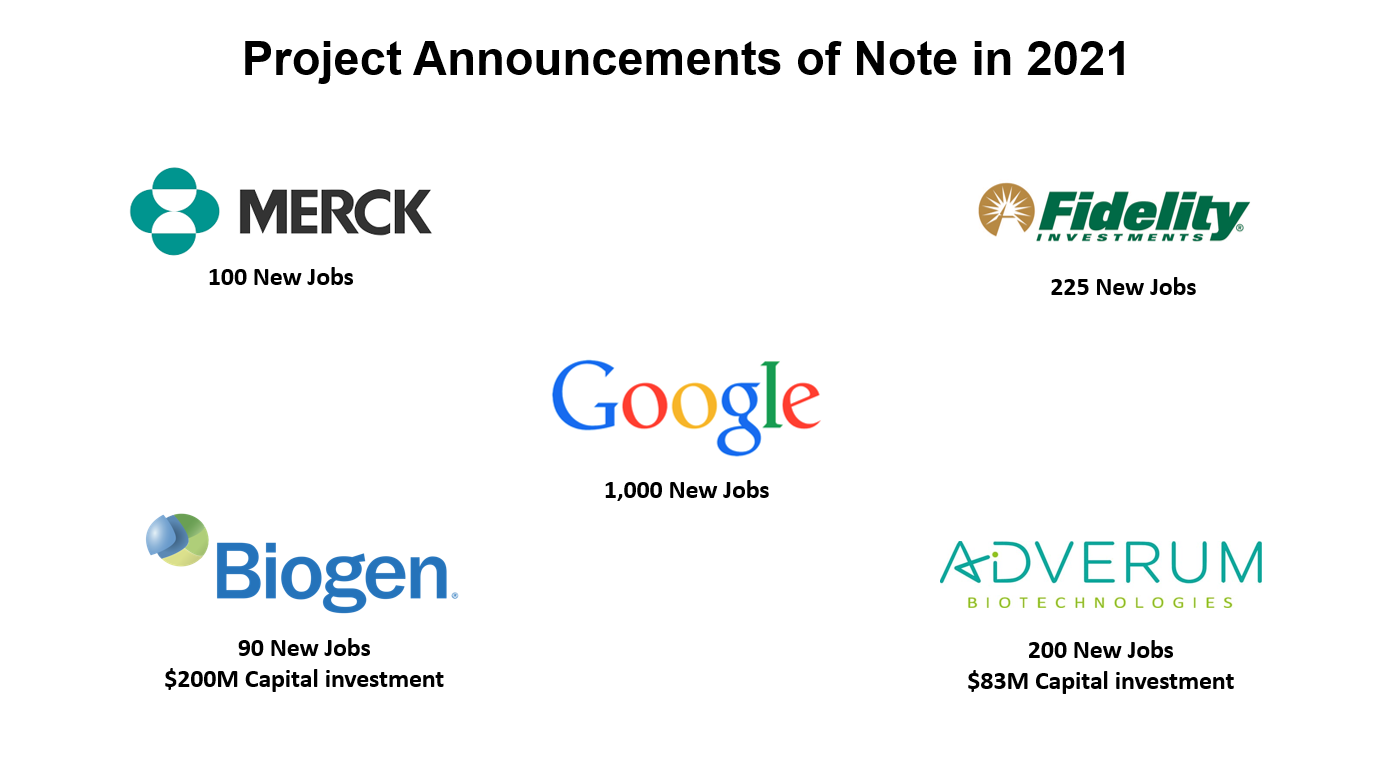 ---
Wake County Economic Development
Wake County focuses its economic development in targeted growth areas and on four industry clusters: Life Science, Software/IT, Cleantech, and Advanced Manufacturing.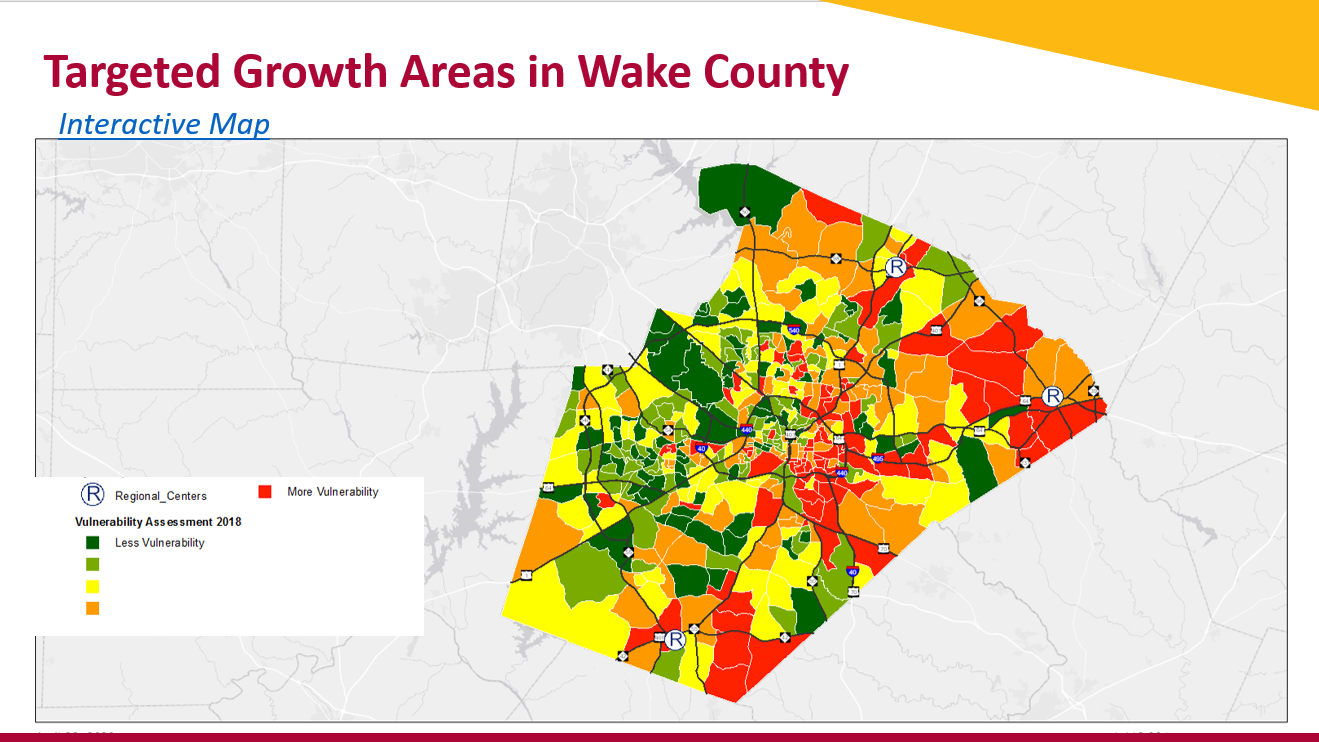 Two recent industry cluster successes include Apple (Software/IT cluster), which will invest over $1 billion and create 3,000 new jobs in the Research Triangle Park as it constructs a new campus and engineering hub focused on machine learning, artificial intelligence, software engineering, and other cutting-edge fields; and FujiFilm Diosynth Biotechnologies (Life Science cluster), which will invest $2 billion and 725 new jobs in Holly Springs as it builds the largest end-to-end cell culture biopharmaceutical manufacturing facility in North America.
---
Dive Deeper into the Data
If you liked what you read, then we encourage you to dive deeper and watch the forum video, review the full presentations, and listen to the 97.9 The Hill WCHL Radio Interview.
---
Register Now
We invite you to register for our next forum on Local Economic Development, which will continue this important conversation and drill down on economic development in the Towns of Chapel Hill and Carrboro. This forum is free for Chamber members. Register now.
---
In Case You Missed It
04/27/2021: Joint statement of congratulations from the Greater Chapel Hill-Carrboro and Durham Chambers
04/26/2021: Appealing your revaluation
04/08/2021: Quick update on downtown
---
About "Our Voice"
The Chamber regularly advocates for the business interests of Greater Chapel Hill-Carrboro and does so thoughtfully and with sound positions informed by the latest data. The Chamber's Government Affairs Committee convenes monthly to guide this important work and Chamber Vice President for External Affairs, Katie Loovis, communicates on behalf of the Committee through Our Voice, a dynamic e-platform. Loovis shares share weekly updates and a comprehensive monthly digest with Chamber members and friends on matters that matter to the local business community, ranging from the economy and elections to economic and workforce development.
---
Contact
For questions, contact Katie Loovis, Vice President of External Affairs for The Chamber at (919) 696-0781 (cell) or KLoovis@carolinachamber.org.
---