The Chamber Reunites for 79th Annual Meeting
The Chamber Reunites for 79th Annual Meeting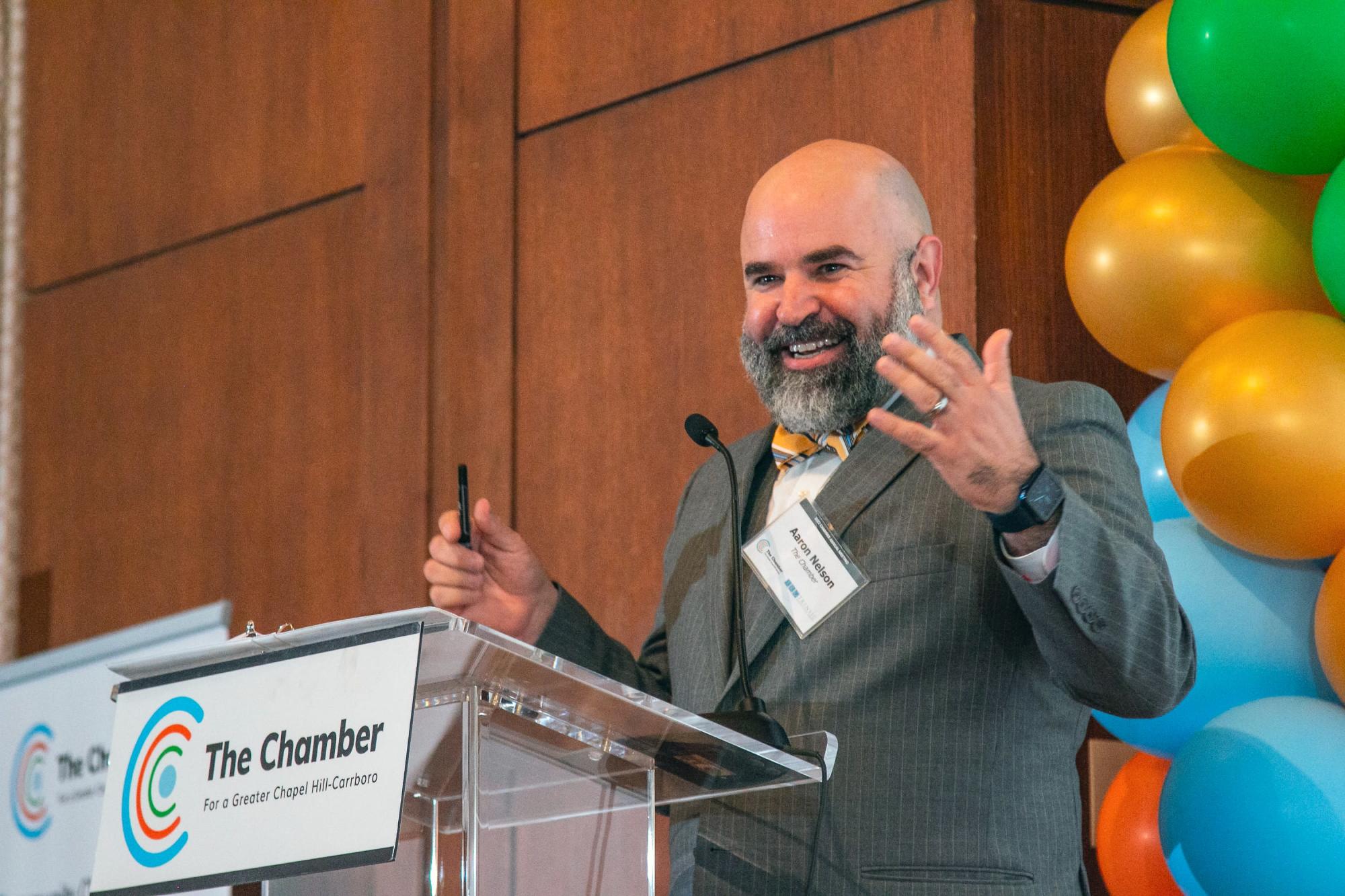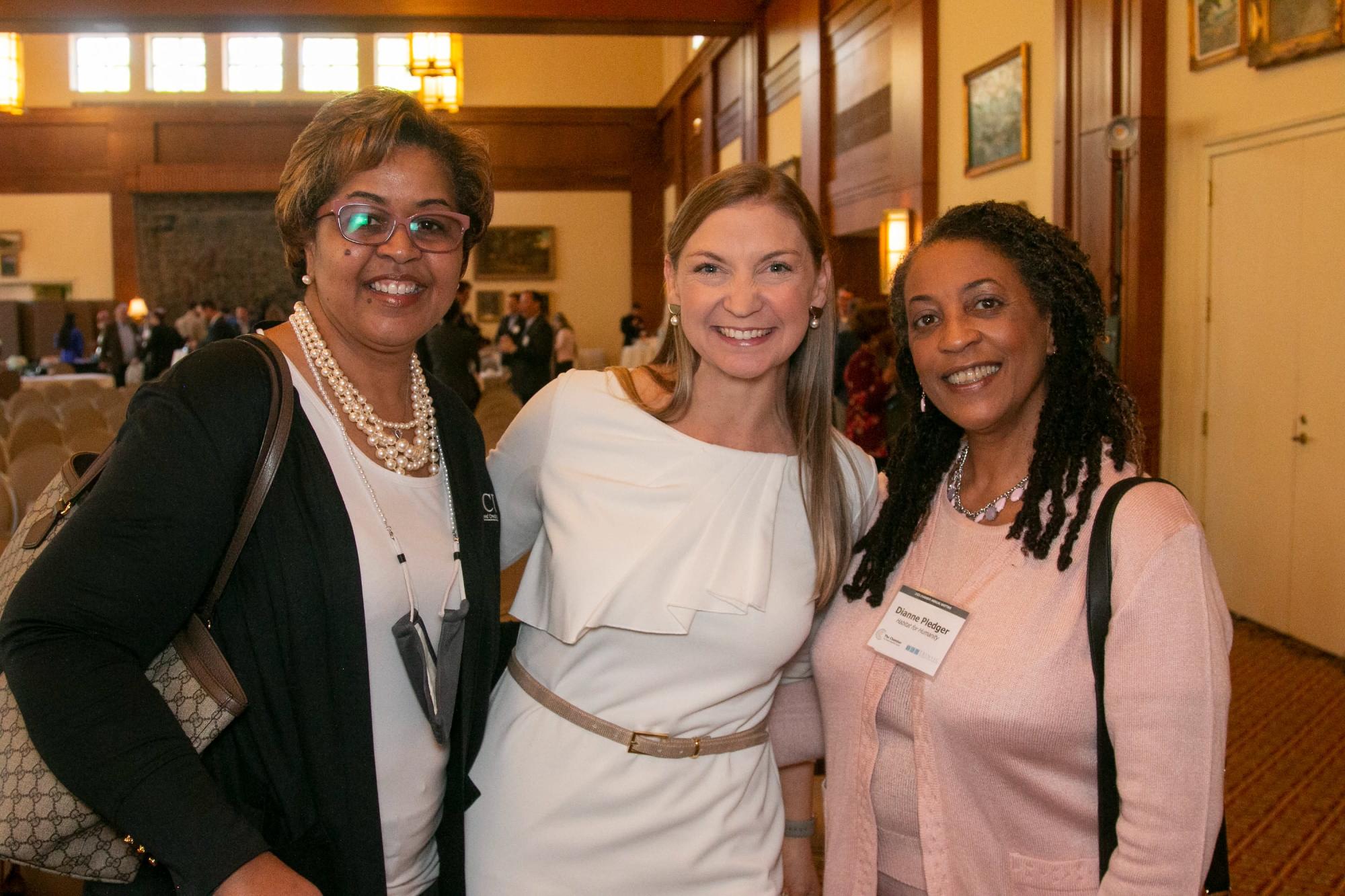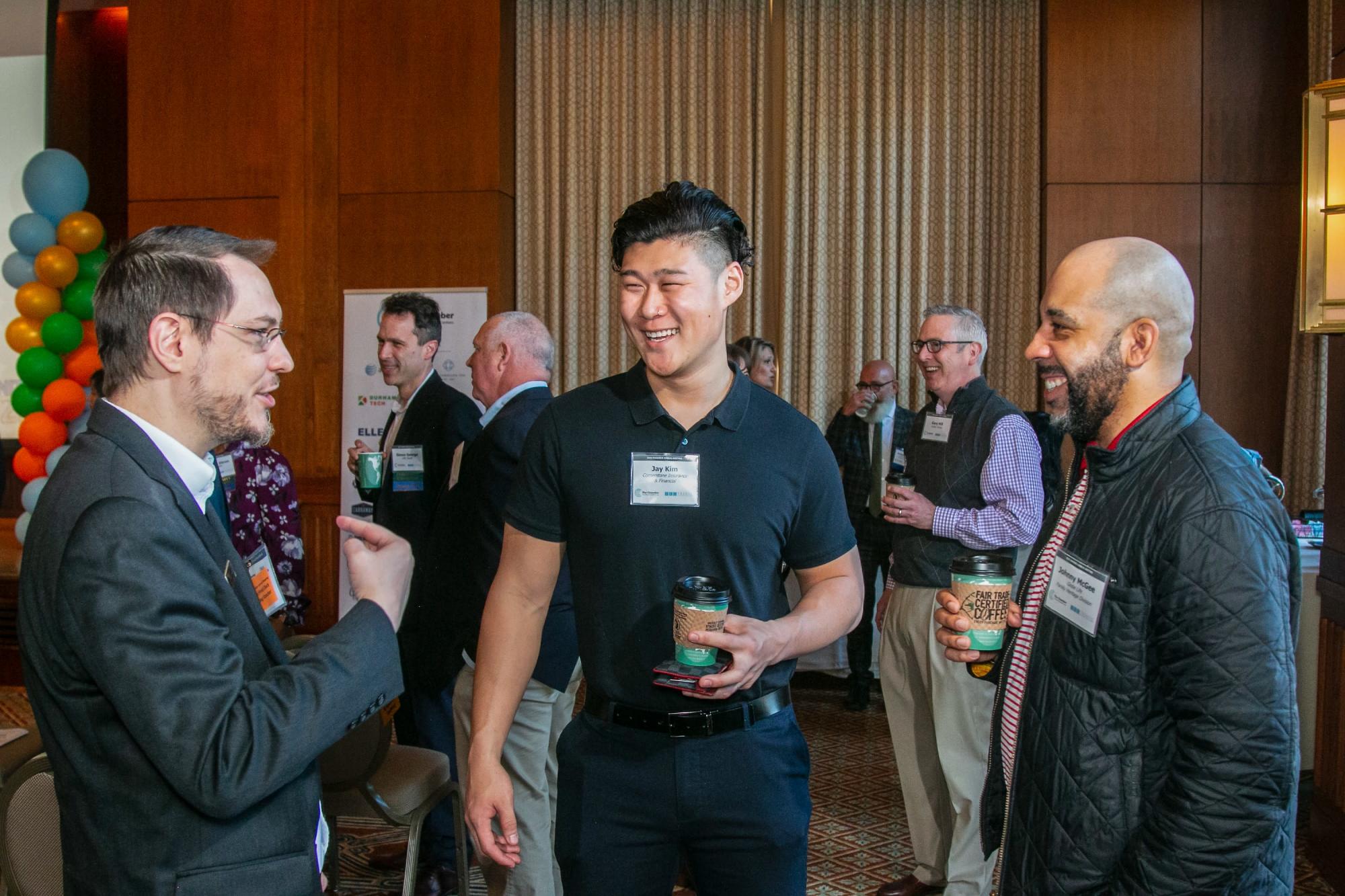 More than 250 business and community leaders convened at the Carolina Club to celebrate 2021 successes, honor three exceptional leaders, and share 2022 priorities
Chapel Hill, NC – On Friday March 18, The Chamber For a Greater Chapel Hill gathered at the 79th Annual Meeting, presented by Trinsic Residential Group, to celebrate the resiliency of the local community through the COVID-19 pandemic, give three prestigious awards, and provide updates on the Big Bold Ideas initiative.
This year's meeting marked The Chamber's first major in-person event since January 2020.
Year In Review
Immediate Past Chair Tom Wiltberger shared his reflections from 2021 and The Chamber's four focus areas during the pandemic.
Wiltberger highlighted The Chamber's successful work in:
1) Responding to the immediate needs of our local business community;
2) Engaging in the long-term Recovery effort;
3) Reaching out in partnership and cooperation with other organizations; and
4) Becoming more Resilient, as a community and a Chamber.
The four Rs: Respond, Recover, Reach, and Resilience.
"In 2021, we helped lead the shift from response to recovery," Wiltberger said. "As the county and towns developed their long-term recovery plans, the Chamber was an active partner helping them develop strategies and tactics that would support local businesses and foster a thriving local economy," Wiltberger said.
Big Bold Ideas
The Big Bold Ideas Steering Committee announced its continued commitment on three big bold priorities for collective action in the years ahead:
1) Create Dramatically More Affordable Housing
2) Increase all Students' Performance and Close the Achievement Gap
3) Accelerate Innovation and Workforce Development
Creighton Blackwell, Chair of the Big Bold Ideas Steering Committee, shared updates on The Big Bold Ideas Committee on Innovation and Workforce Development. This new committee brings together 20 diverse experts and community leaders in innovation, entrepreneurship, and workforce development and is chaired by Sheryl Waddell, Director of Innovate Carolina and UNC's Interim Director of Economic Development and Pavani Peri, founder of Acta Solutions, a Chapel Hill start-up technology and data firm.
Big Bold Ideas Committee on Affordable Housing Chair Jennifer Player shared a timely and important update on Big Bold Ideas. Player announced the committee's goal on affordable housing - Create 1,500 affordable housing units by the end of 2026.
Player unveiled the group's six strategies and 19 tactics and highlighted three key areas: funding, land, and policy regulation.
To learn more about Big Bold Ideas and how to get involved, click here.
Awards
Three extraordinary community leaders were honored with special accolades.
2021 Chair's Award for Service to The Chamber: Joel Levy, Joel Levy, CPA, PLLC
2021 Chair's Award for Public Private Partnership: Tai Huynh, Chapel Hill Town Council
Duke Energy Citizenship and Service Award: Jennifer Player, Habitat for Humanity of Orange County, NC
Scroll down to read citations.
Vision for the Future
Chair Vakesia Graves took the podium to share The Chamber's four priorities and introduce the 2022 Board Leadership Team.
Graves addressed the membership with the following key priorities for 2022:
Grow The Chamber's network
Enhance member value
Improved systems and operations
Advance The Chamber's policy agenda
She ended her remarks with a challenge for the membership.
"I want to challenge each of you to make the most of your membership by getting involved with our Chamber's initiatives," Graves said. "Contribute to Big Bold Ideas, come on the inter-city visit, sign-up to participate in Leadership Chapel Hill-Carrboro, or send an employee to join the Young Professional Network. Ask yourself how you can help local small business. This will make our community and your business a stronger, better place."
To view The Chamber's 2022 Board Leadership Team, click here.
Dedication of Red Maple Trees for UNC Healthcare Workers
Chamber President Aaron Nelson recognized UNC Health workers for their efforts during the pandemic with a red maple tree.
"We want to find a proper place in our community, in a town park, or on campus, or downtown – a proper place where twenty years from now we can bring our kids or grandkids back to some glorious spot in front of a glorious tree and tell them what you all did back then, and remember the hard work and sacrifice, and stand before it and see what was able to grow from that time," said Nelson.
At the base of the tree, a plaque will read:
In grateful appreciation to the tireless employees, researchers, and medical professionals of UNC Hospitals whose labor, service, and sacrifice saved thousands of lives during the 2020 COVID-19 Pandemic. May this growing tree, planted in gratitude, remind us of their strength and perseverance in the protection of our community.
Each attendee was gifted a red maple seedling at the event to be planted to recognize the hard work and difficulty faced in 2021, and to signify renewed optimism in the local community.
---
About the Annual Meeting
The 79th Annual Meeting was held at The Carolina Club in Chapel Hill from 8:15-11:00 a.m. Event photographs were taken by Randy Young of Pierless Photography and will be available on the Chamber's flickr account. Trophies were provided by Signs Now with engraving by Occasions Engraving. The 2022 Annual Meeting was presented by Trinsic Residential Group with additional sponsors including Adkin & Associates, BOLD Companies, Brooks Pierce, Community Home Trust, Dominion Energy, Duke Energy, Durham Tech, Erickson Advisors, Flying Biscuit Café, Identify Yourself, Piedmont Health, Prestige Associates, and Terra Nova Global Properties.
About The Chamber For a Greater Chapel Hill-Carrboro
The Chamber is a membership organization that serves and advances the business interests of the Greater Chapel Hill-Carrboro, including the Towns of Chapel Hill and Carrboro as well as southern Orange, northern Chatham, and southwest Durham counties. The Chamber's network includes over 600-member enterprises that employ more than 95,000 workers throughout the region. Together with its network, The Chamber is committed to building a sustainable community where business thrives.
---
Award Citations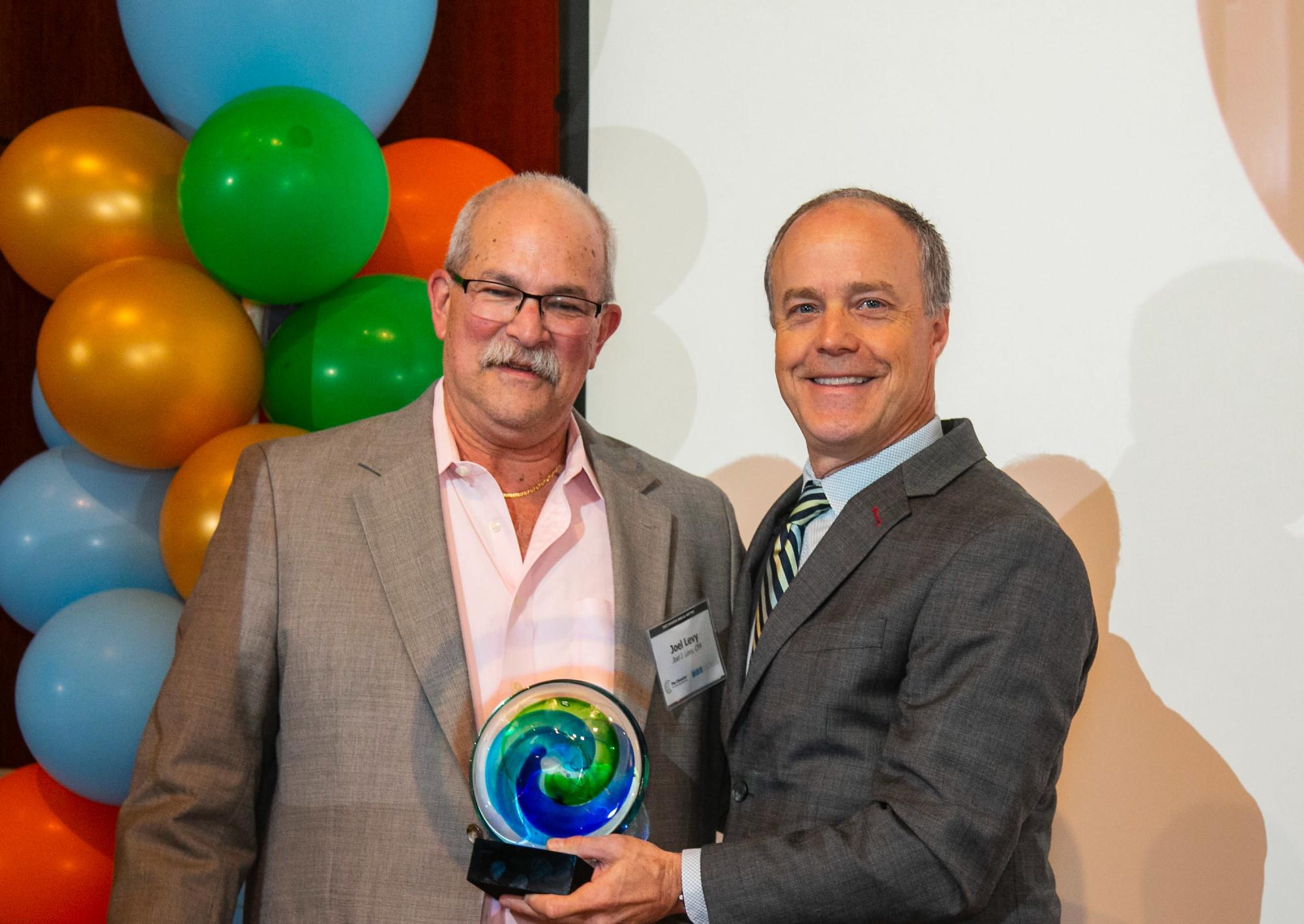 Joel Levy, Recipient of the 2021 Chair's Award for Service to the Chair
Citation read by Tom Wiltberger: This award is presented annually, by the Chair of the Chamber's Board of Directors, to an individual in recognition of their exceptional service to the Chamber, its mission, and its members.
This year's award goes to one of the Chamber's longest serving board members, whose commitment to serve the Chamber and its members seems to know no bounds, having served in nearly every leadership position we have.
This person has served as:
Chair of your Chamber Government Affairs Committee
Chair of your Chamber Finance Committee
Treasurer of The Chamber and our Partnership for a Sustainable Community
Vice Chair of the Chamber Board, and also
Chair of the Chamber's Board of Directors
This individual is one of the staff and Board's most trusted advisors and one of my most trusted advisors.
He has also been a regular player in the Chamber's Annual Golf Tournament.
At the end of 2021, having reached his term limits, this person had to end his long stint on the Chamber board. The board and staff miss his presence and hope he will return soon.
I am pleased to present the 2021 Chair's Award for Service to the Chamber to Joel Levy.
Tai Huynh, Recipient of the 2021 Chairs Award for Public Private Partnership
Citation read by Tom Wiltberger: This award is presented annually to an individual whose work and community service builds bridges between the public and private sectors to the benefit of the entire community.
This year's winner is an elected official who demonstrates leadership in many ways.
A young businessperson and start-up co-founder, he brings his entrepreneurial mindset to his elected service and community leadership.
An innovator and problem solver who convened representatives from business, education, and local government to develop an apprenticeship program focused on training our local youth in the skilled trades, with a specific focus on the children of refugees.
A leader who helped raise $250,000 in grants to fund the newly launched Summer Careers Academy that will be taking their first cohort of students this summer.
A very recent Carolina grad, and still in his first term of elected office, Chapel Hill Town Council Member and Acta Solutions CEO Tai Huynh (pronounced Tie Win) has demonstrated outstanding leadership and has shown himself to be a statesman with wisdom beyond his years.
Councilmember Tai Huynh, for your leadership in establishing productive public-private partnerships that will make a meaningful difference in our community and in the lives of many of our residents, it is my pleasure to present you with the 2021 Chairs Award for Public Private Partnership.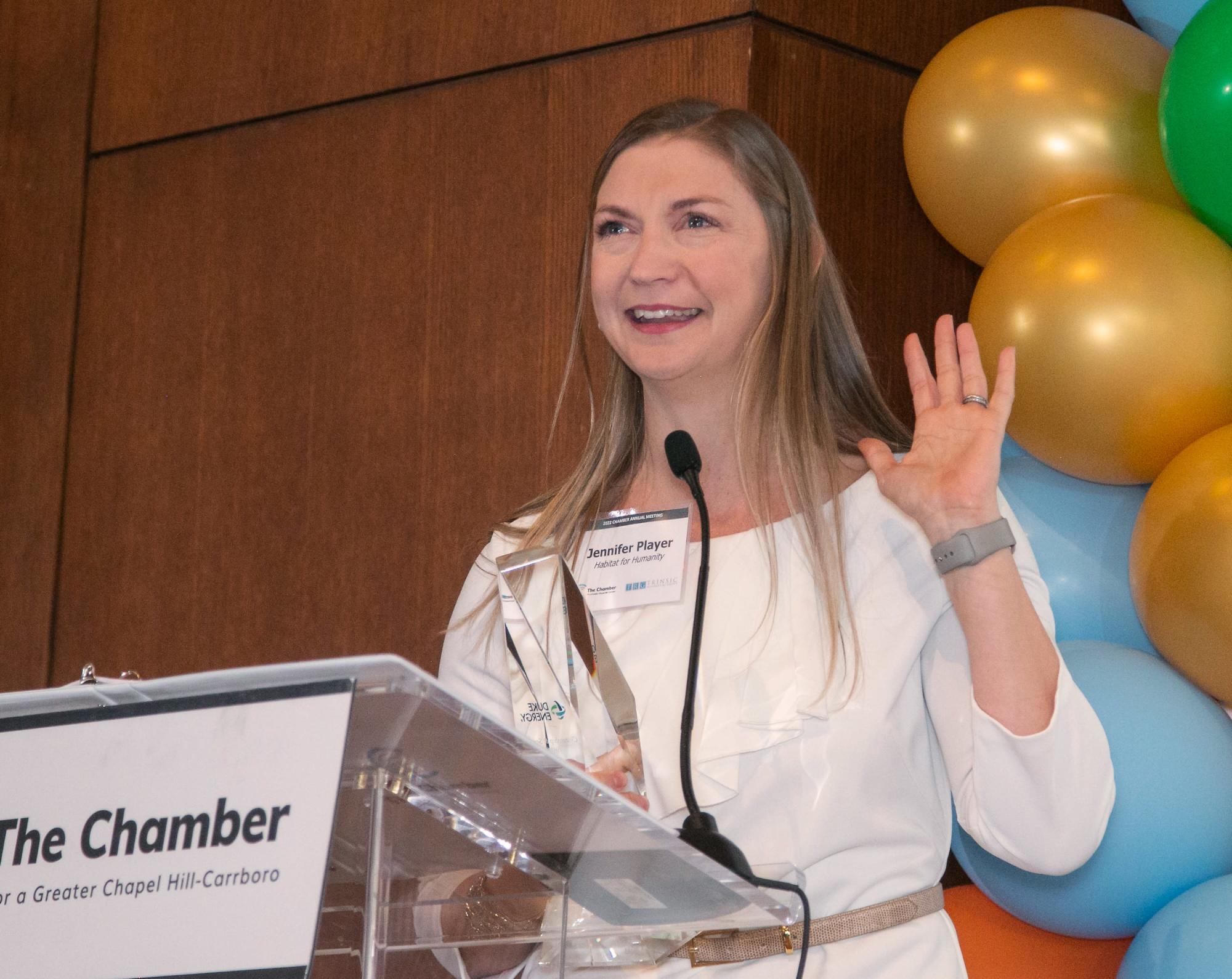 Jennifer Player, Recipient of the 2021 Duke Energy Citizenship and Service Award
Citation read by Indira Everett: The Duke Energy Citizenship and Service Award is a tribute to individuals who use their time, talents, and compassion to make a positive difference.
The honoree must exhibit the following business values:
Integrity
Stewardship
Inclusion
Initiative
Teamwork
Accountability
Created to celebrate Duke's centennial, this year marks 17 years of partnering with The Chamber to present this award to the best of our community.
This year's award winner is a visionary, a collaborator, and a hard worker.
A person who can successfully lead from the front, push from behind, and rally the middle.
Her peers remark on her work ethic and focus as she manages the staff and volunteers of the organization she leads, builds broad community partnerships, participates in community efforts outside her organization, and still prioritizes the family vacation.
We are grateful that this leader chooses to focus her considerable talents on one of our community's most pressing challenges - affordable housing – where she champions her organization's mission, "to bring people together to build homes, communities, and hope."
For nearly 8 years, Jennifer Player has helped lead Orange County Habitat for Humanity, and deserves great credit for the recent approval and groundbreaking for Weavers Grove Community and its 237 new housing units, 101 of which will be permanently affordable Habitat homes, here in Chapel Hill.
In addition to her many successes, we want to specifically recognize Jennifer for successfully leading the Big Bold Ideas Committee on Affordable Housing's bold goal-setting and their adoption of a comprehensive strategy to create 1,500 affordable housing units by 2026.
For her leadership, service, teamwork, coalition building, integrity, hard work, and success, I am pleased to present the 2021 Duke Energy Citizenship and Service Award to Jennifer Player.