17 Chapel Hill + Carrboro Downtown Enterprises Awarded Hometown Revitalization Grants
17 Chapel Hill + Carrboro Downtown Enterprises Awarded Hometown Revitalization Grants
---
On January 25, 2023, The Partnership for a Greater Chapel Hill-Carrboro (The Partnership), in collaboration with The Chamber for a Greater Chapel Hill-Carrboro (The Chamber), Town of Carrboro Economic Development, Carrboro Business Alliance, Chapel Hill Downtown Partnership, and Town of Chapel Hill Economic Development, announced recipients of the Duke Energy Foundation's Hometown Revitalization Grants.
These awards were designed to support small businesses and nonprofit organizations that have a storefront presence in downtown Chapel Hill and/or Carrboro, North Carolina.
Duke Energy Foundation's donation to The Partnership made $22,250 available to distribute. The grant funds were split evenly between Chapel Hill and Carrboro-based enterprises. In addition, the Town of Chapel Hill's ReVive grant program contributed an additional $9,000, expanding funding availability to Chapel Hill-based enterprises.
Ninety-eight applications were received with requests totaling $222,680. A selection committee of local economic development leaders used an objective scoring system to review applications. A total of $31,500 was awarded to the following 17 organizations, of which 30% are woman-owned and 53% are BIPOC-owned.
---
Carrboro
401 Main
Breakaway Café
Spotted Dog Restaurant & Bar
Steel String Brewery
TABLE
Tin Top, LLC (owners of the building at 414 E Main St)
Chapel Hill
Boro Beverage
Chapel Hill Training
Cosmic Cantina
Epilogue Books Chocolate Brews
Linda's Bar & Grill
Local 506
Mama Dip's
Momo's Master
Saturni Fusion Bistro
Sutton's Drug Store
Talulla's
---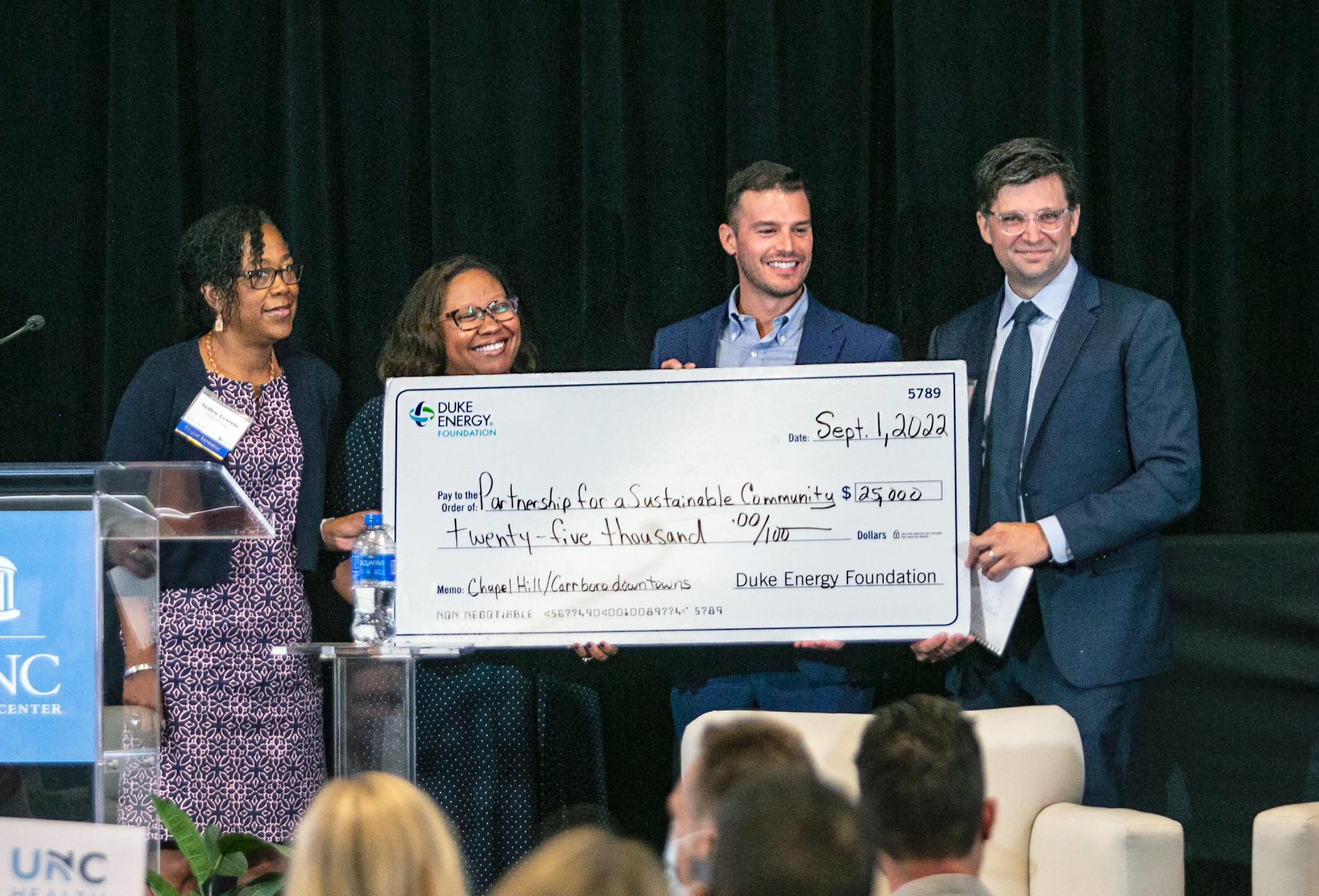 Credit: Randy Young, Pierless Photography
---
About The Partnership: The Partnership is a 501(c)3 nonprofit organization dedicated to strengthening and supporting The Chamber's community, economic, and workforce community development initiatives. The Partnership applies business leadership to create community opportunities and solve community problems, and does so with a focus on four areas: 1) convene leaders, 2) educate and inform the community, 3) build organization capacity, and 4) research and report on important community information.
About The Chamber: The Chamber is a membership organization that serves and advances the business interests of Greater Chapel Hill-Carrboro, including the Towns of Chapel Hill and Carrboro as well as southern Orange, northern Chatham, and southwest Durham counties. The Chamber's network includes more than 600-member enterprises that employ more than 95,000 workers throughout the region. Together with its network, The Chamber is committed to building a sustainable community where business thrives.
Contact: Jensen Anderson, Director of Community Engagement and Assistant to the President, The Chamber for a Greater Chapel Hill-Carrboro, (984) 444-5836.