10 Community Heroes Honored at The Chamber's 2022 Service Awards
10 Community Heroes Honored at The Chamber's 2022 Service Awards
Chapel Hill, N.C. – The Chamber for a Greater Chapel Hill-Carrboro partnered with UNC Athletics to recognize the 2022 Service Award winners on Dec. 13 at halftime during the UNC men's basketball game on Roy Williams Court at the Dean E. Smith Center. The winners were honored for their service to the community in front of thousands of fans donning Carolina blue.
"We are grateful to have partnered with Carolina Athletics to honor these 10 community heroes, who so deservedly received an ovation from the thousands of fans at the Dean Smith Center," said Aaron Nelson, President/CEO of The Chamber for a Greater Chapel Hill-Carrboro. Each award winner and the organizations they represent are an integral part in our community and should be celebrated. They are described by their peers and supervisors as gracious, dedicated, compassionate, and reliable. Thank you to UNC Athletics for their partnership and UNC-Chapel Hill Chancellor Kevin Guskiewicz for his support and participation."
2022 Service Award Winners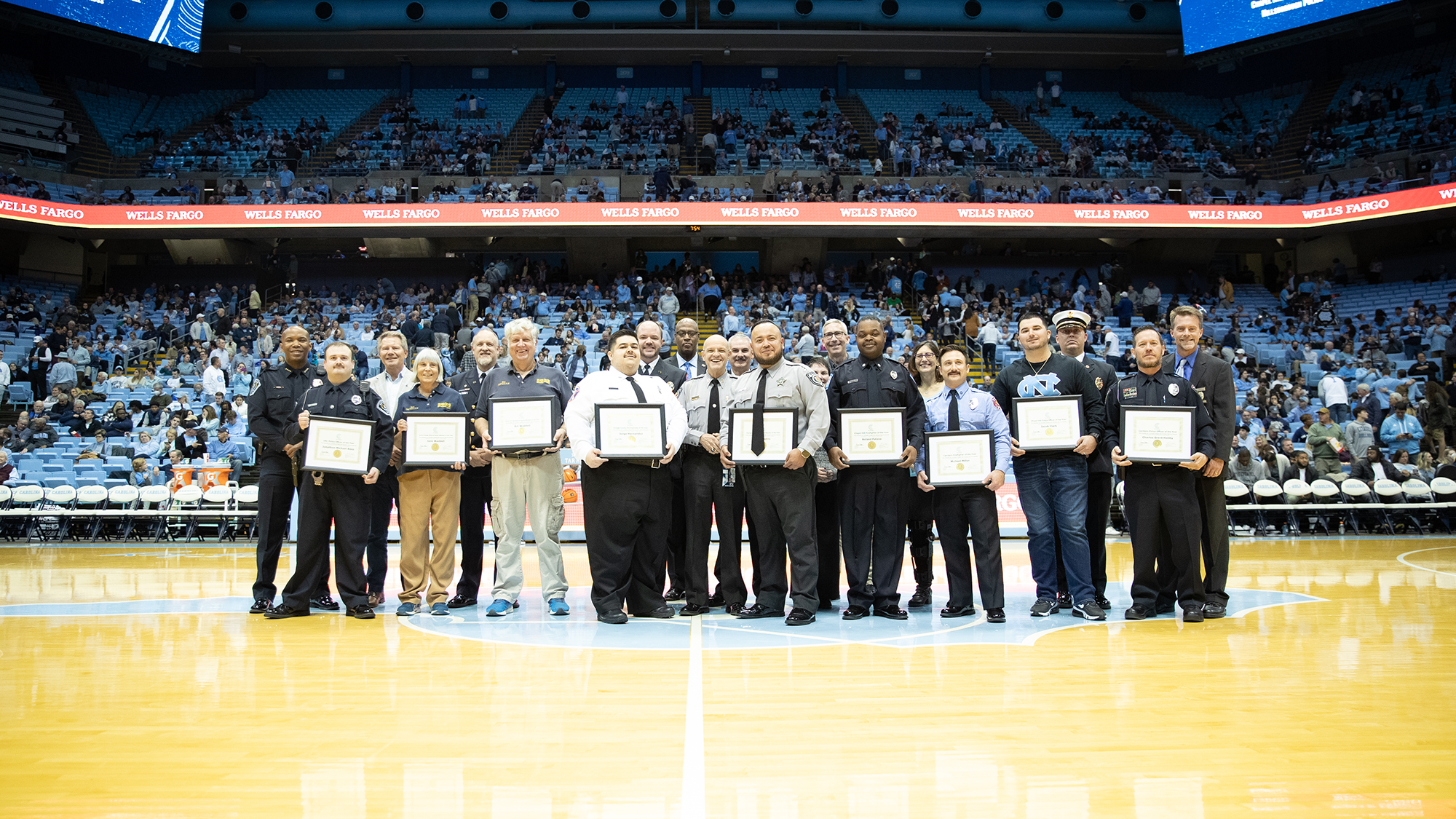 (Photo By Maggie Hobson/UNC Athletics)
Carrboro Fire Department Firefighter of the Year – Michael Miller 
Firefighter Michael Miller has taken on an important role as a mentor for Carrboro Fire-Rescue Department's new personnel. He works diligently to ensure new personnel know what it takes to be a great firefighter and sets an example for them to follow. When not at the Carrboro Fire-Rescue Department, Miller also volunteers his time to community organizations, including the South Orange Rescue Squad.

Three words used to describe Michael Miller by his peers: Compassionate, Dedicated, Honorable
Carrboro Police Department Officer of the Year – Sgt. Charles Brent Hobby 
As an officer, Sergeant Brent Hobby is a resource on many topics for the Carrboro Police Department and seeks to develop those around him through high-quality and real-world applicable training. His natural humility and conversational manner enhance his ability to share his deep knowledge of community issues, policing methods, and creative problem solving. Sergeant Hobby views challenges as opportunities and takes great pride in providing professional service to the public.
Three words used to describe Sgt. Hobby by his peers: Gracious, Reliable, Well-rounded
Chapel Hill Fire Department Firefighter of the Year – Fire Inspector Roland Falana 
Inspector Roland Falana's goal is the success of the Chapel Hill Fire Department and his coworkers. He selflessly gives his all to the Chapel Hill community. Even when he's completed what's been asked or a task, he continues to cycle to ensure both CHFD and the residents and businesses have full closure. He has repeatedly demonstrated this on inspections and emergency incidents in his time with the department.
Three words used to describe Roland Falana by his peers: Humble, Committed, Thoughtful
Chapel Hill Police Officer of the Year – K-9 Officer Jacob Clark 
Officer Jacob Clark's strong work ethic and his desire to help others, both Chapel Hill residents and fellow employees, are two of the characteristics that make him exceptional. Officer Clark is extremely dedicated to the Chapel Hill Police Department, his fellow employees, and the community he serves.
Three words used to describe Officer Clark by his peers: Dedicated, Loyal, Dependable
Hillsborough Police Officer of the Year – K-9 Officer Juan Jaime Duran 
Officer Juan Jaime Duran is a highly motivated officer who is always looking for ways to help others. He serves on Hillsborough Police Department's Community Action Team, trains officers as an FTO, and he always steps up to help cover shifts and handle tasks that need to be completed. Having recently completed K9 handler school, Officer Duran takes on many different tasks with enthusiasm. After being placed on the HPD Community Action Team, he was needed to help cover patrol shifts and assist with training new recruits due to staffing shortages. Without hesitation, Officer Duran started covering shifts, training new officers, and still managed all his responsibilities that are required of the specialized unit that he is assigned to.
Three words used to describe Officer Duran by his peers: Motivated, Trustworthy, Exceptional
Orange County Emergency Services Employee of the Year – Jorge Hernandez 
Jorge Hernandez is a member of the Orange County Emergency Services administrative team and serves the community and office in multiple ways. As the administrative assistant, Hernandez provides exceptional customer service to visitors and callers, often going the extra mile to answer questions and provide a welcoming atmosphere. He takes pride in helping others in any way that he can. From troubleshooting uniform issues to resolving billing concerns, providing medical records, and supporting special events (NCAA Championships, Halloween on Franklin Street, and EOC operations during COVID) - Hernandez does it all with his unwavering positivity.
Three words used to describe Jorge Hernandez by his peers: Happy, Amazing, Caring
Orange County Sheriff's Deputy of the Year – Deputy Eric Castro 
Deputy Eric Castro represents everything a Sheriff would want in a deputy. He is always professional and he possesses a relentlessly good attitude. Even when he is not working, whether it be his regular days off, his vacation, or when he is out sick, if you call him for something – especially if you need his ability to translate - he will always say "yes" without hesitation or complaint. He is respected by his colleagues as well as the community he serves.
Three words used to describe Deputy Castro by his peers: Professional, Dedicated, Humble
South Orange Rescue Squad Member of the Year – CPR Instructors Jane and Bill Waddell 
No one is more dedicated, more selfless, or more willing to step up when needed than Jane and Bill Waddell. Since joining SORS in 2006, Jane and Bill have each taught over 200 Community CPR classes which translates to over 5,000 members of the community.
Three words used to describe Jane and Bill Waddell by their peers: Humble, Committed, Thoughtful
UNC Police Officer of the Year – Officer Jonathon Michael Ross 
Officer Jonathon Ross goes out of his way to help the department in any way he can. Officer Ross helps his fellow officers with calls, helps the department by switching squads when assistance is needed, and supports other divisions within the department when they need help.
---
About The Chamber: The Chamber is a membership organization that serves and advances the business interests of the Greater Chapel Hill-Carrboro, including the Towns of Chapel Hill and Carrboro as well as southern Orange, northern Chatham, and southwest Durham counties. The Chamber's network includes over 600-member enterprises that employ more than 95,000 workers throughout the region. Together with its network, The Chamber is committed to building a sustainable community where business thrives.