Women's Self Defense Seminar: Counter Abduction
Date and Time
Sunday Mar 1, 2020
2:00 PM - 5:00 PM EST
Location
The Coalition 1706 East Franklin Street Chapel Hill, NC 27514 US
Fees/Admission
$100.00 - Event Price for One Person $175.00 - Event Price for Two
Contact Information
Jaimie Lee, Sheri Taylor, or Benay Hicks 919-869-7790
Send Email
Women's Self Defense Seminar: Counter...
Description
The Women's Self Defense: Counter Abduction Seminar is designed to enhance strength and self-confidence. The training uses Krav Maga and various vigilance techniques to increase awareness and strength with movements and strikes to defend against common attacks, primarily abduction attempts. The seminar teaches you how to turn natural, instinctive movement into close combat self-defense techniques. We will focus on scenario-based training, and how to plan and execute ways to get home safely.
Chapel Hill Young Professionals
Under 40 Monthly Networking
CHYP
CHYP pronounced "chip" is a group of fun professionals under 40 that meets the first Tuesday of each month for networking, professional development and community service. 
Learn More
Women's Events
Quarterly Socials & Luncheons
Women's Events
Our Chamber's strong group of professional women gather quarterly for networking and learning opportunities. Sponsored by The Women of State Farm. 
Learn More
Ribbon Cuttings
Periodic Celebrations of New Business Openings, Anniversaries, and Milestones. 
Ribbon Cuttings
Celebrations and acknowledgement of special milestones for new and existing Chamber member businesses. 
Schedule a Celebration
State of the Community Report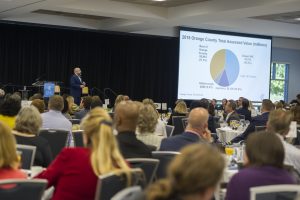 Thursday, September 10, 2020 (Virtual)
About: Born out of graduate student research at UNC-Chapel Hill, this annual event is a comprehensive briefing featuring the latest data on the well-being of Greater Chapel Hill-Carrboro across social, economic, and environmental indicators. Follow the ongoing conversation at #CHCSOTC.
Resources:  
Salute to Community Heroes
Business Excellence Awards