Vecino Brewing Co. 1 Year Anniversary & Chamber Ribbon Cutting
Date and Time
Friday Jun 21, 2019 Saturday Jun 22, 2019
Friday June 21 11:30 a.m. - Saturday June 22 2:30 p.m.
Website
Description
Mark your calendars, Vecino Brewing Co. is turning 1!

Chamber Ribbon Cutting: Friday June 21st at 11:30 a.m.
Brew Master Andrew Turner is currently working on a special anniversary brew to unveil to celebrate the evolution of Vecino this past trip around the sun. DJ Ras J will kick us off Friday afternoon into the evening with great island sounds that will get you moving your feet. Chef Leah has some exceptional food specials planned and we've got some activities and prizes planned to thank you, our dear friends, for your patronage and support over this past year. It's the Summer Solstice, come celebrate this this midsummer night with us in style.

Food and drink specials all weekend. Come on out to meet the team!

Vecino is Spanish for Neighbor and our hearts are truly filled with gratitude for the opportunity to be your neighbor. We can't wait to celebrate with you!


Chapel Hill Young Professionals
Under 40 Monthly Networking
CHYP
CHYP pronounced "chip" is a group of fun professionals under 40 that meets the first Tuesday of each month for networking, professional development and community service. 
Learn More
Women's Events
Quarterly Socials & Luncheons
Women's Events
Our Chamber's strong group of professional women gather quarterly for networking and learning opportunities. Sponsored by The Women of State Farm. 
Learn More
Ribbon Cuttings
Periodic Celebrations of New Business Openings, Anniversaries, and Milestones. 
Ribbon Cuttings
Celebrations and acknowledgement of special milestones for new and existing Chamber member businesses. 
Schedule a Celebration
State of the Community Report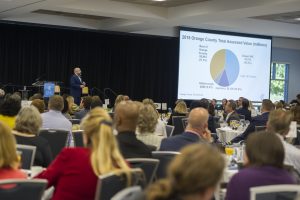 Thursday, September 10, 2020 (Virtual)
About: Born out of graduate student research at UNC-Chapel Hill, this annual event is a comprehensive briefing featuring the latest data on the well-being of Greater Chapel Hill-Carrboro across social, economic, and environmental indicators. Follow the ongoing conversation at #CHCSOTC.
Resources:  
Salute to Community Heroes
Business Excellence Awards