The Strings of Our Hearts (studio A dancers)
Date and Time
Saturday Jan 19, 2019
6:00 PM - 7:00 PM EST
Saturday, January 19, 2019 Two 50-minute shows (including a 10 minute intermission) at 2pm and 6pm.
Location
East Chapel Hill High School Auditorium 500 Weaver Dairy Rd, Chapel Hill, NC 27514
Website
Contact Information
Melody Eggen at 919-929-5202 or melody@studioadancearts.com
Send Email
The Strings of Our Hearts (studio A d...
Description
Children's dance theater company studio A dancers' newest show is a look at an often overlooked subject. We try to avoid it, but sooner or later it happens to us all. Yes, we are taking on the grim reaper and looking at life through the lens of death. Stories bind us together, they allow us to explore the future and the past. Stories educate, entertain, transport and inspire. This story is about life. It will kill you. That is not a cause for concern. It is a fact. Let us show you how to enjoy the ride. Studio A dancers is a multi aged dance theater company focused on bringing the joy and excitement of live performance to audiences ages 2 - 102.
Chapel Hill Young Professionals
Under 40 Monthly Networking
CHYP
CHYP pronounced "chip" is a group of fun professionals under 40 that meets the first Tuesday of each month for networking, professional development and community service. 
Learn More
Women's Events
Quarterly Socials & Luncheons
Women's Events
Our Chamber's strong group of professional women gather quarterly for networking and learning opportunities. Sponsored by The Women of State Farm. 
Learn More
Ribbon Cuttings
Periodic Celebrations of New Business Openings, Anniversaries, and Milestones. 
Ribbon Cuttings
Celebrations and acknowledgement of special milestones for new and existing Chamber member businesses. 
Schedule a Celebration
State of the Community Report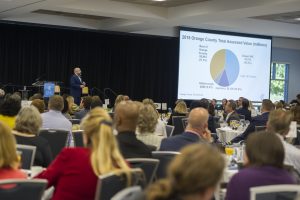 Thursday, September 10, 2020 (Virtual)
About: Born out of graduate student research at UNC-Chapel Hill, this annual event is a comprehensive briefing featuring the latest data on the well-being of Greater Chapel Hill-Carrboro across social, economic, and environmental indicators. Follow the ongoing conversation at #CHCSOTC.
Thank you to the 2020 Data Partners: Carolina Demography, Orange County, Partnership for a Sustainable Community, Town of Chapel Hill, Town of Carrboro and Town of Hillsborough
Resources:  
Salute to Community Heroes
Business Excellence Awards