The Seashell and the Clergyman: Live Score by Tim Carless
Date and Time
Saturday Jan 19, 2019
8:00 PM - 9:30 PM EST
Date: January 19, 2019 Time: 8:00 pm - 9:30 pm
Location
The ArtsCenter 300-G East Main St. Carrboro, NC 27510
Fees/Admission
$15 for adults, $10 for children.
Contact Information
Patrick Phelps-Mckeown
Send Email
The Seashell and the Clergyman: Live ...
Description
The Seashell and the Clergyman is Germaine Dulac's 1928 silent film, featuring a script from Antonin Artaud. Often cited as the first surrealist film, it is offered here with a live score from Tim Carless. Tim is performing this piece solo at the piano. TSATC is a relatively short film, running at 30 minutes. Preceding the main feature, Carless will present a live-score to Alice in Wonderland, directed by Cecil Hepworth and Percy Stow from 1903. This curio is just under 10 minutes in length. The music will be a solo guitar performance written by Tim specifically for the occasion. Tim Carless has been a working musician for the last 30 years. Having enjoyed tenures in London, NYC and Los Angeles, he has written, performed and recorded with people as disparate as Wreckless Eric, Paul McCartney and Aufgehoben. Based in Carrboro for the last few years. He scored The Hanging for PBS in 2017. More information can be found at www.timcarless.com.
Chapel Hill Young Professionals
Under 40 Monthly Networking
CHYP
CHYP pronounced "chip" is a group of fun professionals under 40 that meets the first Tuesday of each month for networking, professional development and community service. 
Learn More
Women's Events
Quarterly Socials & Luncheons
Women's Events
Our Chamber's strong group of professional women gather quarterly for networking and learning opportunities. Sponsored by The Women of State Farm. 
Learn More
Ribbon Cuttings
Periodic Celebrations of New Business Openings, Anniversaries, and Milestones. 
Ribbon Cuttings
Celebrations and acknowledgement of special milestones for new and existing Chamber member businesses. 
Schedule a Celebration
State of the Community Report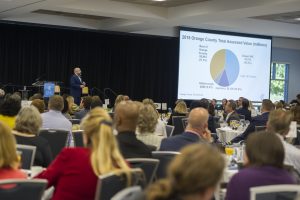 Thursday, September 10, 2020 (Virtual)
About: Born out of graduate student research at UNC-Chapel Hill, this annual event is a comprehensive briefing featuring the latest data on the well-being of Greater Chapel Hill-Carrboro across social, economic, and environmental indicators. Follow the ongoing conversation at #CHCSOTC.
Thank you to the 2020 Data Partners: Carolina Demography, Orange County, Partnership for a Sustainable Community, Town of Chapel Hill, Town of Carrboro and Town of Hillsborough
Resources:  
Salute to Community Heroes
Business Excellence Awards