Taking Care of Business | June 2019
Date and Time
Wednesday Jun 5, 2019
11:30 AM - 1:00 PM EDT
11:30 a.m.-1 p.m., Wednesday, June 5
Fees/Admission
TCB is free to attend but registration is required. To register, click on the "Register Now" button to the top left.
Description
Join us on June 5th at Hyatt Place - Southern Village for Taking Care of Business with the topic: 6 Key Ingredients for Making Great Video.

About the Speaker: Jason Stepanek, Producer/Director of Vinegar-Based Productions

Relentless. Resourceful. Talented. Jason is a 24-year industry veteran with experience directing, producing, shooting, and editing on both coasts, including 9 years in the concentrated field of physician and healthcare video marketing. His keen eye helps capture the unique flavor of each of our client's stories. He specializes in assembling amazing teams to get the most out of each day on set. All it takes is a few moments on location with him to know why brands like Experian, Red Bull, and IBM have trusted Jason with their stories.

Jason has helped Vinegar-Based Productions, the sister company of Jennings Healthcare Marketing, build a reputation for producing high-quality digital video content including compelling high-end commercials, patient stories, physician introductions, procedure specific videos, and employee videos addressing issues such as patient safety and workplace wellness. Vinegar-Based Productions' and Jennings' web content is routinely recognized with national and international awards including Telly Awards, Videographer Awards, Healthcare Advertising Awards, Aster Awards, and Cancer Awareness Advertising Awards.

Prior to joining Jennings, Jason served as producer/cinematographer for Binary Pulse Technology Marketing in Irvine, California, where he produced digital video content for the agency's clients. Jason worked with a number of diverse clients including Broadcom, Patient Safe Solutions, California State University, Hanger, Innovative Neurotronics, Tandem Diabetes Care, Pacific Life, Quantum, and ReWalk.

TCB Lunch Sponsor and Provider:
The Travelling Cafe




Coming full-circle with her passions of hospitality, travel, and international food, Leslie Chartier's company is called "The Travelling Cafe" - meaning we bring the foods of international cafes to you by providing the following services:

1. Personal Chef services (where myself and others come in to your home, prepare servings of healthy, flavorful meals for the week, package them, clean up and leave),
2. Private Catering services (in-home catering of private events and dinner parties), and
3. Private Cooking Classes (in-home classes for 2-12 people).

Taking Care of Business is powered by the Chapel Hill-Carrboro Chamber of Commerce, SCORE Chapel Hill Durham, and Local Presence SEO. Join us monthly on the first Wednesday for education topics that give you the tools you need to succeed in your business.
Chapel Hill Young Professionals
Under 40 Monthly Networking
CHYP
CHYP pronounced "chip" is a group of fun professionals under 40 that meets the first Tuesday of each month for networking, professional development and community service. 
Learn More
Women's Events
Quarterly Socials & Luncheons
Women's Events
Our Chamber's strong group of professional women gather quarterly for networking and learning opportunities. Sponsored by The Women of State Farm. 
Learn More
Ribbon Cuttings
Periodic Celebrations of New Business Openings, Anniversaries, and Milestones. 
Ribbon Cuttings
Celebrations and acknowledgement of special milestones for new and existing Chamber member businesses. 
Schedule a Celebration
State of the Community Report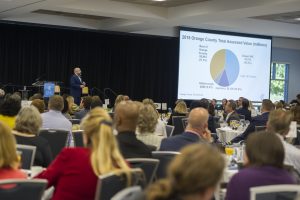 Thursday, September 10, 2020 (Virtual)
About: Born out of graduate student research at UNC-Chapel Hill, this annual event is a comprehensive briefing featuring the latest data on the well-being of Greater Chapel Hill-Carrboro across social, economic, and environmental indicators. Follow the ongoing conversation at #CHCSOTC.
Thank you to the 2020 Data Partners: Carolina Demography, Orange County, Partnership for a Sustainable Community, Town of Chapel Hill, Town of Carrboro and Town of Hillsborough
Resources:  
Salute to Community Heroes
Business Excellence Awards