Taking Care of Business | July 2019
Date and Time
Wednesday Jul 10, 2019
11:30 AM - 1:00 PM EDT
11:30 a.m.-1 p.m., Wednesday, July 10
Fees/Admission
TCB is free to attend but registration is required. To register, click on the "Register Now" button to the top left.
Description
Topic:
How to Stand Out on LinkedIn in 2019

This seminar will walk you through three things you need to know to build authority in your industry and attracting new clients and customers using LinkedIn. You will discover how to:

• Optimize your profile to attract the people and opportunities you want
• Create and share engaging content that sparks conversations and engagement
• Build the know, like and trust that turns followers into business opportunities

About our speaker, Bianca Lynch:


Bianca is a Social Media Consultant, Strategist and Speaker on a mission to help business owners increase their impact, influence and income with social media. She has helped entrepreneurs, agencies and corporations dramatically increase their online presence, gain high-quality leads and drive sales revenue with digital marketing. Her expertise is helping businesses be seen, heard and profitable on social media by clearly showcasing their value and building relationships. She gives people the motivation and momentum they need to be their best self every day, online and offline.

This session's lunch sponsor is PDQ!




Taking Care of Business is powered by The Chamber For a Greater Chapel Hill-Carrboro, SCORE Chapel Hill Durham, and Local Presence SEO. Join us monthly on the first Wednesday for education topics that give you the tools you need to succeed in your business.
Follow us on Twitter via @carolinachamber and join the conversation using hashtag #ChamberTCB
Chapel Hill Young Professionals
Under 40 Monthly Networking
CHYP
CHYP pronounced "chip" is a group of fun professionals under 40 that meets the first Tuesday of each month for networking, professional development and community service. 
Learn More
Women's Events
Quarterly Socials & Luncheons
Women's Events
Our Chamber's strong group of professional women gather quarterly for networking and learning opportunities. Sponsored by The Women of State Farm. 
Learn More
Ribbon Cuttings
Periodic Celebrations of New Business Openings, Anniversaries, and Milestones. 
Ribbon Cuttings
Celebrations and acknowledgement of special milestones for new and existing Chamber member businesses. 
Schedule a Celebration
State of the Community Report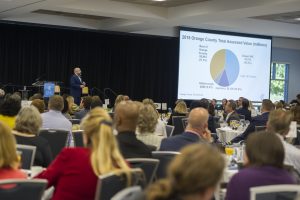 Thursday, September 10, 2020 (Virtual)
About: Born out of graduate student research at UNC-Chapel Hill, this annual event is a comprehensive briefing featuring the latest data on the well-being of Greater Chapel Hill-Carrboro across social, economic, and environmental indicators. Follow the ongoing conversation at #CHCSOTC.
Thank you to the 2020 Data Partners: Carolina Demography, Orange County, Partnership for a Sustainable Community, Town of Chapel Hill, Town of Carrboro and Town of Hillsborough
Resources:  
Salute to Community Heroes
Business Excellence Awards