Taking Care of Business | April 2019
Date and Time
Wednesday Apr 3, 2019
5:30 PM - 7:00 PM EDT
5:30 p.m - 7:00 p.m., Wednesday, April 3
Location
Finley Golf Course at The Golf Shop
500 Finley Golf Course Rd
Chapel Hill, NC 27514
Fees/Admission
TCB is free to attend but registration is required. To register, click on the "Register Now" button to the top left.
Description
Navigating sexual harassment and discrimination in the workplace
with Speaker, Dr. Robert L. Green, Sr.

This topic is "top of mind" given the recent high-profile examples in the news. Very timely, Dr. Green will facilitate a discussion about sexual harassment and discrimination in the workplace and its impact on the organization's ability to succeed. At this seminar you will learn about:
a. sexual harassment and discrimination regulations and policies
b. recognizing discrimination in the workplace
c. reporting harassment and discrimination incidents
d. impact on the organization's ability to achieve its goals

Speaker bio:


Dr. Robert Green, Sr. is the president and CEO of RJRD Associates & Consultants L.L.C., Professional Development Training, Administrative Management, and Human Resources Consulting company. Dr. Green is a retired military officer with over 35 years of experience in strategic planning and career development who was responsible for training and developing the Army's senior civilian and military executives. He holds Doctorate in Business Management from University of Phoenix and MS in Education from North Carolina A&T State University.

Contact information for RJRD Associates & Consultants:
Website: www.rjrdac.com
Email: rjrdac@gmail.com
Phone: (703) 615-5889

This month dinner will be provided by PDQ Durham!


Taking Care of Business is powered by the Chapel Hill-Carrboro Chamber of Commerce, SCORE Chapel Hill Durham, and the Local Presence SEO. Join us monthly on the first Wednesday for education topics that give you the tools you need to succeed in your business.
Follow us on Twitter via @carolinachamber and join the conversation using hashtag #ChamberTCB
Chapel Hill Young Professionals
Under 40 Monthly Networking
CHYP
CHYP pronounced "chip" is a group of fun professionals under 40 that meets the first Tuesday of each month for networking, professional development and community service. 
Learn More
Women's Events
Quarterly Socials & Luncheons
Women's Events
Our Chamber's strong group of professional women gather quarterly for networking and learning opportunities. Sponsored by The Women of State Farm. 
Learn More
Ribbon Cuttings
Periodic Celebrations of New Business Openings, Anniversaries, and Milestones. 
Ribbon Cuttings
Celebrations and acknowledgement of special milestones for new and existing Chamber member businesses. 
Schedule a Celebration
State of the Community Report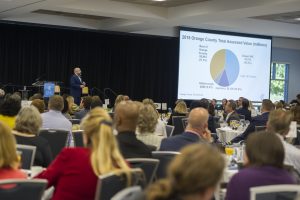 Thursday, September 10, 2020 (Virtual)
About: Born out of graduate student research at UNC-Chapel Hill, this annual event is a comprehensive briefing featuring the latest data on the well-being of Greater Chapel Hill-Carrboro across social, economic, and environmental indicators. Follow the ongoing conversation at #CHCSOTC.
Thank you to the 2020 Data Partners: Carolina Demography, Orange County, Partnership for a Sustainable Community, Town of Chapel Hill, Town of Carrboro and Town of Hillsborough
Resources:  
Salute to Community Heroes
Business Excellence Awards