Date and Time
Wednesday Nov 7, 2018
11:30 AM - 1:00 PM EST
11:30 a.m.-1 p.m., Wednesday, November 7
Fees/Admission
TCB is free to attend but registration is required. To register, click on the "Register Now" button to the top left.
Contact Information
Vanessa Watson (919) 357-9989
Send Email
Description
Topic: "Branding for Small Businesses: 5 Steps to Put Your Best Foot Forward" with Speaker, Annie Franceschi

You know branding your business is important, but how do you get started? Join local brand creator and former Disney storyteller, Annie Franceschi, to discover 5 ways you can use branding to show your value, tell your story and grow your business! From your logo to your website, learn best practices and get ready to take your next steps forward.
Taking Care of Business is powered by the Chapel Hill-Carrboro Chamber of Commerce, SCORE Chapel Hill Durham, and the Small Business Response. Join us monthly on the first Wednesday for education topics that give you the tools you need to succeed in your business.
Annie Franceschi is an author, professional speaker and brand creator behind Greatest Story Creative®, a North Carolina-based branding agency. A Duke University graduate with more than 10 years in storytelling, Annie began her career working in franchise management for major movies at The Walt Disney Studios in California. Today, having branded over 70 businesses, Annie is a passionate creative partner to small business owners who need the name, logo, words, and website that show their value, tell their story, and grow their business. Her first book, Permission to Try, a self-help title on how to change careers, start a business, and reinvent your life, is now available on Amazon. Annie currently lives in Durham, NC with her favorite person and husband, Gus. https://www.greateststorycreative.com/
Follow us on Twitter via @carolinachamber and join the conversation using hashtag #ChamberTCB
Images
Chapel Hill Young Professionals
Under 40 Monthly Networking
CHYP
CHYP pronounced "chip" is a group of fun professionals under 40 that meets the first Tuesday of each month for networking, professional development and community service. 
Learn More
Women's Events
Quarterly Socials & Luncheons
Women's Events
Our Chamber's strong group of professional women gather quarterly for networking and learning opportunities. Sponsored by The Women of State Farm. 
Learn More
Ribbon Cuttings
Periodic Celebrations of New Business Openings, Anniversaries, and Milestones. 
Ribbon Cuttings
Celebrations and acknowledgement of special milestones for new and existing Chamber member businesses. 
Schedule a Celebration
State of the Community Report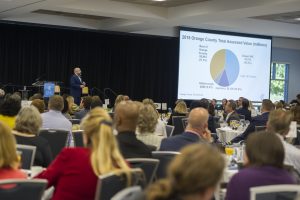 Thursday, September 10, 2020 (Virtual)
About: Born out of graduate student research at UNC-Chapel Hill, this annual event is a comprehensive briefing featuring the latest data on the well-being of Greater Chapel Hill-Carrboro across social, economic, and environmental indicators. Follow the ongoing conversation at #CHCSOTC.
Thank you to the 2020 Data Partners: Carolina Demography, Orange County, Partnership for a Sustainable Community, Town of Chapel Hill, Town of Carrboro and Town of Hillsborough
Resources:  
Salute to Community Heroes
Business Excellence Awards