Sona Jobarteh at The ArtsCenter
Date and Time
Friday Oct 19, 2018
8:00 PM - 10:00 PM EDT
Sona Jobarteh at The ArtsCenter
Description
Sona Jobarteh is a pioneer in the ancient male-dominated hereditary Griot tradition of Africa, a tradition that has been exclusively handed down from father to son for the past seven centuries. Jobarteh defies convention as the first female Kora virtuoso to come from a legendary west African Griot lineage famous for its Kora masters, including her grandfather Amadu Bansang Jobarteh and her cousin Toumani Diabaté. Renowned for her skill as an instrumentalist, distinctive voice, infectious melodies and onstage grace, Jobarteh's unique ability to touch audiences from all backgrounds and cultures has led her to international success.
Chapel Hill Young Professionals
Under 40 Monthly Networking
CHYP
CHYP pronounced "chip" is a group of fun professionals under 40 that meets the first Tuesday of each month for networking, professional development and community service. 
Learn More
Women's Events
Quarterly Socials & Luncheons
Women's Events
Our Chamber's strong group of professional women gather quarterly for networking and learning opportunities. Sponsored by The Women of State Farm. 
Learn More
Ribbon Cuttings
Periodic Celebrations of New Business Openings, Anniversaries, and Milestones. 
Ribbon Cuttings
Celebrations and acknowledgement of special milestones for new and existing Chamber member businesses. 
Schedule a Celebration
State of the Community Report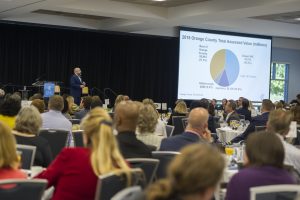 Thursday, September 10, 2020 (Virtual)
About: Born out of graduate student research at UNC-Chapel Hill, this annual event is a comprehensive briefing featuring the latest data on the well-being of Greater Chapel Hill-Carrboro across social, economic, and environmental indicators. Follow the ongoing conversation at #CHCSOTC.
Thank you to the 2020 Data Partners: Carolina Demography, Orange County, Partnership for a Sustainable Community, Town of Chapel Hill, Town of Carrboro and Town of Hillsborough
Resources:  
Salute to Community Heroes
Business Excellence Awards