Piedmont Melody Makers at The ArtsCenter
Date and Time
Friday Oct 26, 2018
8:00 PM - 10:00 PM EDT
Piedmont Melody Makers at The ArtsCen...
Description
The Piedmont Melody Makers, purveyors of old-time, country and bluegrass music, take their name from the Piedmont region of eastern North Carolina where three-quarters of the band now reside. Featuring the incomparable Alice Gerrard alongside folk stalwarts Jim Watson, Cliff Hale, and Chris Brasher, these perennial ArtsCenter favorites return to the Wynn Theater to celebrate the release of Brasher's Colton House Recordings and Gerrard's release of the unreleased practice tapes Hazel & Alice Sing Me Back Home: The DC Tapes 1965-1969.
Chapel Hill Young Professionals
Under 40 Monthly Networking
CHYP
CHYP pronounced "chip" is a group of fun professionals under 40 that meets the first Tuesday of each month for networking, professional development and community service. 
Learn More
Women's Events
Quarterly Socials & Luncheons
Women's Events
Our Chamber's strong group of professional women gather quarterly for networking and learning opportunities. Sponsored by The Women of State Farm. 
Learn More
Ribbon Cuttings
Periodic Celebrations of New Business Openings, Anniversaries, and Milestones. 
Ribbon Cuttings
Celebrations and acknowledgement of special milestones for new and existing Chamber member businesses. 
Schedule a Celebration
State of the Community Report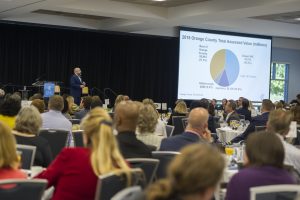 Thursday, September 10, 2020 (Virtual)
About: Born out of graduate student research at UNC-Chapel Hill, this annual event is a comprehensive briefing featuring the latest data on the well-being of Greater Chapel Hill-Carrboro across social, economic, and environmental indicators. Follow the ongoing conversation at #CHCSOTC.
Thank you to the 2020 Data Partners: Carolina Demography, Orange County, Partnership for a Sustainable Community, Town of Chapel Hill, Town of Carrboro and Town of Hillsborough
Resources:  
Salute to Community Heroes
Business Excellence Awards