Date and Time
Wednesday Nov 14, 2018
11:30 AM - 1:00 PM EST
11:30 a.m.-1 p.m., Wednesday, November 14
Location
Chapel Hill-Carrboro Chamber of Commerce
104 S. Estes Drive
Chapel Hill, NC
Fees/Admission
Free to attend for Chamber members. Registration is required.
Description
Join us for Non-Profit Roundtable with the topic Stay Within Yourself, led by Executive Service Corps consultant, Paul Bamford. Paul is a senior-level HR professional with over 30 years of experience principally in nonprofit human service organizations.
All too often small nonprofits adopt (or inherit) policies and procedures that are applicable to large employers even though they aren't covered by the laws requiring them. An example is the Family Medical Leave Act: applicable only to organizations with 50 employees, but adopted by small nonprofits with the goal of being "family friendly." It's fine to be family friendly, but do you really want to commit to compliance with exotic definitions of "serious illness'?
Presented by Carolina National Insurance Agency, Non-Profit Roundtable (NPRT) is networking and education for non-profits, from 11:30 a.m.-1 p.m. on the second Wednesday of every month.

NPRT is powered by Executive Service Corps

This event is free to attend, but registration is required. To register, click on the "Register Online" button above or email Vanessa at vwatson@carolinachamber.org. Chamber events are also open to board members and staff of Chamber member non-profit organizations!

Follow us on Twitter via @carolinachamber and join the conversation using hashtag #NPRT.
Chapel Hill Young Professionals
Under 40 Monthly Networking
CHYP
CHYP pronounced "chip" is a group of fun professionals under 40 that meets the first Tuesday of each month for networking, professional development and community service. 
Learn More
Women's Events
Quarterly Socials & Luncheons
Women's Events
Our Chamber's strong group of professional women gather quarterly for networking and learning opportunities. Sponsored by The Women of State Farm. 
Learn More
Ribbon Cuttings
Periodic Celebrations of New Business Openings, Anniversaries, and Milestones. 
Ribbon Cuttings
Celebrations and acknowledgement of special milestones for new and existing Chamber member businesses. 
Schedule a Celebration
State of the Community Report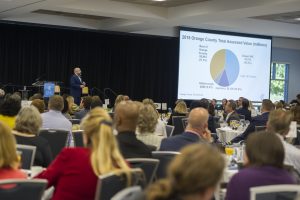 Thursday, September 10, 2020 (Virtual)
About: Born out of graduate student research at UNC-Chapel Hill, this annual event is a comprehensive briefing featuring the latest data on the well-being of Greater Chapel Hill-Carrboro across social, economic, and environmental indicators. Follow the ongoing conversation at #CHCSOTC.
Thank you to the 2020 Data Partners: Carolina Demography, Orange County, Partnership for a Sustainable Community, Town of Chapel Hill, Town of Carrboro and Town of Hillsborough
Resources:  
Salute to Community Heroes
Business Excellence Awards