IFC's Food Pantry Open House
Date and Time
Tuesday Nov 13, 2018
5:30 PM - 7:00 PM EST
Tuesday, November 13, 5:30 – 7:00 pm
Location
110 West Main Street in downtown Carrboro, NC
Contact Information
Please RSVP to arosen@ifcmailbox.org with Subject line: Open House 11/13 RSVP or click on send email (below).
Send Email
Description
Join us to learn about how IFC serves our community and about FoodFirst, IFC's community food hub planned for downtown Carrboro. Construction is expected to begin in 2019 and to be completed by summer 2020.
Chapel Hill Young Professionals
Under 40 Monthly Networking
CHYP
CHYP pronounced "chip" is a group of fun professionals under 40 that meets the first Tuesday of each month for networking, professional development and community service. 
Learn More
Women's Events
Quarterly Socials & Luncheons
Women's Events
Our Chamber's strong group of professional women gather quarterly for networking and learning opportunities. Sponsored by The Women of State Farm. 
Learn More
Ribbon Cuttings
Periodic Celebrations of New Business Openings, Anniversaries, and Milestones. 
Ribbon Cuttings
Celebrations and acknowledgement of special milestones for new and existing Chamber member businesses. 
Schedule a Celebration
State of the Community Report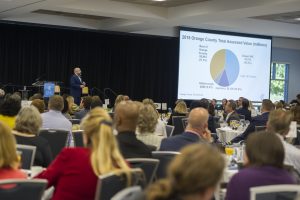 Thursday, September 10, 2020 (Virtual)
About: Born out of graduate student research at UNC-Chapel Hill, this annual event is a comprehensive briefing featuring the latest data on the well-being of Greater Chapel Hill-Carrboro across social, economic, and environmental indicators. Follow the ongoing conversation at #CHCSOTC.
Thank you to the 2020 Data Partners: Carolina Demography, Orange County, Partnership for a Sustainable Community, Town of Chapel Hill, Town of Carrboro and Town of Hillsborough
Resources:  
Salute to Community Heroes
Business Excellence Awards