Hemp, Hops & CBD Educational Workshop
Date and Time
Tuesday Nov 27, 2018
6:00 PM - 8:00 PM EST
Location
Chamber of Commerce conference room
Website
Contact Information
Melissa Temple-Agosta 760-712-0143
Send Email
Hemp, Hops & CBD Educational Workshop
Description
Join Melissa Temple-Agosta, Founder of the Hemp Lifestyle Network to learn more about hemp, hops and CBD products for your family's wellness (including children and pets) ! Entrepreneurs can come to learn about business opportunities in the legal hemp industry in the US and Europe. Melissa is an expert in the industry and has helped over 3000 people gain access to safe, non-GMO, triple lab tested hemp products and successfully launched their independent businesses. Whether you are curious, have specific questions or want to listen in and learn, you are welcome to join us!
Chapel Hill Young Professionals
Under 40 Monthly Networking
CHYP
CHYP pronounced "chip" is a group of fun professionals under 40 that meets the first Tuesday of each month for networking, professional development and community service. 
Learn More
Women's Events
Quarterly Socials & Luncheons
Women's Events
Our Chamber's strong group of professional women gather quarterly for networking and learning opportunities. Sponsored by The Women of State Farm. 
Learn More
Ribbon Cuttings
Periodic Celebrations of New Business Openings, Anniversaries, and Milestones. 
Ribbon Cuttings
Celebrations and acknowledgement of special milestones for new and existing Chamber member businesses. 
Schedule a Celebration
State of the Community Report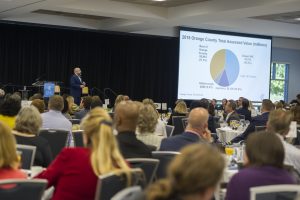 Thursday, September 10, 2020 (Virtual)
About: Born out of graduate student research at UNC-Chapel Hill, this annual event is a comprehensive briefing featuring the latest data on the well-being of Greater Chapel Hill-Carrboro across social, economic, and environmental indicators. Follow the ongoing conversation at #CHCSOTC.
Thank you to the 2020 Data Partners: Carolina Demography, Orange County, Partnership for a Sustainable Community, Town of Chapel Hill, Town of Carrboro and Town of Hillsborough
Resources:  
Salute to Community Heroes
Business Excellence Awards