ESC Management Series: Nonprofit Performance Reviews and Appraisals
Date and Time
Tuesday Oct 22, 2019
10:00 AM - 12:00 PM EDT
Location
RTP Headquarters (12 Davis Drive, RTP)
ESC Management Series: Nonprofit Perf...
Description
Nonprofit Performance Reviews and Appraisals: Many people dread performance reviews. They may be seen as bureaucratic, too late, unhelpful, unfair, uneven, inflexible, time consuming, etc. Join us for a general review and discussion of what works and what doesn't. With emphasis on: Why have such a system? What is in it for the organization? What is in it for the employee? How detailed of an appraisal process do you really need? How often should a performance discussion be had? How to improve performance reviews—making a system that's is tailored to your organization, using SMART goals How to address performance issues Exploring examples and case studies
Chapel Hill Young Professionals
Under 40 Monthly Networking
CHYP
CHYP pronounced "chip" is a group of fun professionals under 40 that meets the first Tuesday of each month for networking, professional development and community service. 
Learn More
Women's Events
Quarterly Socials & Luncheons
Women's Events
Our Chamber's strong group of professional women gather quarterly for networking and learning opportunities. Sponsored by The Women of State Farm. 
Learn More
Ribbon Cuttings
Periodic Celebrations of New Business Openings, Anniversaries, and Milestones. 
Ribbon Cuttings
Celebrations and acknowledgement of special milestones for new and existing Chamber member businesses. 
Schedule a Celebration
State of the Community Report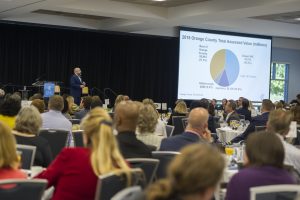 Thursday, September 10, 2020 (Virtual)
About: Born out of graduate student research at UNC-Chapel Hill, this annual event is a comprehensive briefing featuring the latest data on the well-being of Greater Chapel Hill-Carrboro across social, economic, and environmental indicators. Follow the ongoing conversation at #CHCSOTC.
Thank you to the 2020 Data Partners: Carolina Demography, Orange County, Partnership for a Sustainable Community, Town of Chapel Hill, Town of Carrboro and Town of Hillsborough
Resources:  
Salute to Community Heroes
Business Excellence Awards