Craftboro Brewing Depot Ribbon Cutting Ceremony
Date and Time
Friday Oct 25, 2019
4:00 PM - 5:00 PM EDT
Friday, October 25th, 4-5 p.m.
Location
101 Two Hills Dr. Unit 180
Carrboro, NC 27510
Website
Description
Craftboro Brewing Depot is a neighborhood community hub offering a comfortable and welcoming atmosphere to enjoy and learn about the world of craft beer.

We celebrate craft in all forms from quality brewed craft beer to handmade arts. The process and story of making is what roots us. We know that craft takes time, sweat and creativity?it cannot be rushed.

Our brewery has 10 taps of knock your socks off craft beer. Feeling like a beer to go? Browse our cozy bottle shop. The weather too nice to sit inside? Drink your brew on the patio or next to the roll up overhead doors.

Cheers!

Our Team:
Amy McCarter: Owner and Co-founder
Amy is our dreamer and craft visionary of Craftboro. From quilting to drawing, crocheting to painting, arts and crafts is her passion. Amy is a mom, tree hugger, dog lover and book collector. She enjoys long hikes in the woods, playing in nature with her kids and of course cold craft beer!

Jason McCarter: Owner and Co-founder
Jason loves beer almost as much as he loves riding on the trails! Before building Craftboro Brewing Depot, you would find him riding his mountain bike on local trails with a smile and dirt in between his teeth only to be washed down with a post ride beer. He is passionate in providing a special place to enjoy good beers and determined to create a little-special-something for our neighborhood brewery. In between bikes and beers, Jason loves his family, and enjoys music and movies

Rick: Head Brewer and Co-founder
Rick (our Head Brewer) joined the Craftboro team while it was still a developing idea. He is our man behind the beer recipes. He has brewed professionally for 12 years and
counting. He can often be found hanging out in his coveralls arguing with Jeff about
"How wrong it is to put coffee into every beer style!" Rick is extremely passionate about
his family, craft beer, and the Red Sox!

Jeff: Brewer apprentice and Co-founder
Jeffrey Allen Howard is a beer-obssessed nerd. Drinking beer isn't enough; he reads about it, studies it's history, and brews it. His own recipes sometimes even turn out. He also happens to be a personal injury attorney but brewing is way more fun.

Chapel Hill Young Professionals
Under 40 Monthly Networking
CHYP
CHYP pronounced "chip" is a group of fun professionals under 40 that meets the first Tuesday of each month for networking, professional development and community service. 
Learn More
Women's Events
Quarterly Socials & Luncheons
Women's Events
Our Chamber's strong group of professional women gather quarterly for networking and learning opportunities. Sponsored by The Women of State Farm. 
Learn More
Ribbon Cuttings
Periodic Celebrations of New Business Openings, Anniversaries, and Milestones. 
Ribbon Cuttings
Celebrations and acknowledgement of special milestones for new and existing Chamber member businesses. 
Schedule a Celebration
State of the Community Report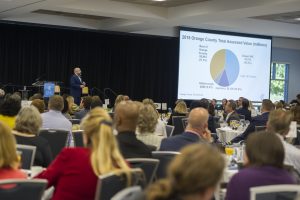 Thursday, September 10, 2020 (Virtual)
About: Born out of graduate student research at UNC-Chapel Hill, this annual event is a comprehensive briefing featuring the latest data on the well-being of Greater Chapel Hill-Carrboro across social, economic, and environmental indicators. Follow the ongoing conversation at #CHCSOTC.
Thank you to the 2020 Data Partners: Carolina Demography, Orange County, Partnership for a Sustainable Community, Town of Chapel Hill, Town of Carrboro and Town of Hillsborough
Resources:  
Salute to Community Heroes
Business Excellence Awards