Central Carolina Women in Business Social
Date and Time
Tuesday Oct 15, 2019
5:30 PM - 7:00 PM EDT
5:30-7 p.m., Tuesday, October 15
Location
Burwell School Historic Site
319 N. Churton Street
Hillsboroug
Fees/Admission
Central Carolina WIB Members-Free
Non-members- $10
Register through the Hillsborough/Orange County Chamber of Commerce website.

All members of the Chapel Hill-Carrboro Chamber of Commerce are considered Central Carolina Women In Business members and should register for FREE. Simply click the "not a member" link to proceed with your registration since you will be attending through a guest chamber membership.

Non-Chamber Members can attend this event as a guest for $10.

Central Carolina Women in Business So...
Description
Join the Central Carolina Women in Business for our October Monthly Networking Social hosted by the Hillsborough/Orange County Chamber of Commerce. This month the host location is Burwell School Historic Site. Join us for this special experience of history, performance art, and networking.
Enjoy an evening of networking and connecting with fellow women in business, including a special treat from Historic Hillsborough Commission members - Brenda and Sara Stephens.
The mother/daughter duo will give us a peek into their performance as the older and younger Elizabeth Keckly in the play, Behind the Scenes, which has been performed at the Burwell School for four consecutive years. The play is based on the memoir of Keckly, a former slave at Burwell School.
Elizabeth Keckly was an enterprising businesswoman who purchased freedom for herself & her son, then went from slave to business owner to dressmaker for, and closest friend of, First Lady Mary Todd Lincoln. Her inspirational story highlights the tenacity and perseverance of a woman who not only overcame one of the worst human experiences but also excelled and thrived as a woman in business.
Register online here
Chapel Hill Young Professionals
Under 40 Monthly Networking
CHYP
CHYP pronounced "chip" is a group of fun professionals under 40 that meets the first Tuesday of each month for networking, professional development and community service. 
Learn More
Women's Events
Quarterly Socials & Luncheons
Women's Events
Our Chamber's strong group of professional women gather quarterly for networking and learning opportunities. Sponsored by The Women of State Farm. 
Learn More
Ribbon Cuttings
Periodic Celebrations of New Business Openings, Anniversaries, and Milestones. 
Ribbon Cuttings
Celebrations and acknowledgement of special milestones for new and existing Chamber member businesses. 
Schedule a Celebration
State of the Community Report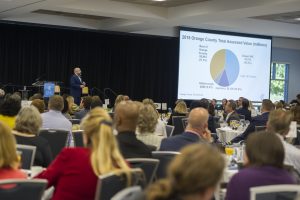 Thursday, September 10, 2020 (Virtual)
About: Born out of graduate student research at UNC-Chapel Hill, this annual event is a comprehensive briefing featuring the latest data on the well-being of Greater Chapel Hill-Carrboro across social, economic, and environmental indicators. Follow the ongoing conversation at #CHCSOTC.
Thank you to the 2020 Data Partners: Carolina Demography, Orange County, Partnership for a Sustainable Community, Town of Chapel Hill, Town of Carrboro and Town of Hillsborough
Resources:  
Salute to Community Heroes
Business Excellence Awards