Central Carolina Women in Business Quarterly Luncheon
Date and Time
Tuesday Mar 19, 2019
11:30 AM - 1:00 PM EDT
Tuesday, March 19th
11:30 a.m. to 1 p.m.
Location
SpringHill Suites
5310 McFarland Drive
Durham, NC 27707
Description
Please join us for the Central Carolina Women in Business Quarterly Luncheon, hosted by the Hillsborough/Orange County Chamber on Tuesday, March 19th from 11:30 a.m. to 1:00 p.m. at SpringHill Suites.

Register now to reserve your spot to enjoy a delicious lunch catered by Beau Catering, networking and keynote speaker, Sharon Dean.

This month we're excited to welcome keynote speaker Sharon Dean with The Sharon Dean Group. As Speaker, Motivator, and Coach, Sharon is changing lives through inspiration. Inside every woman is the desire to become all she was created to be. Inside her is a longing for something bigger...a yearning to make a greater impact, but there is something hindering her ability to become all that she is. This woman is ready to put it all on the line...put it all on the table. This woman is ready to step into the fullness of her purpose. Sharon will help us get ready for this experience.

Central Carolina Women in Business Luncheons are $35 for members of the group. Non-members may attend for $50.

Learn more about the Central Carolina Women in Business.
Images
Chapel Hill Young Professionals
Under 40 Monthly Networking
CHYP
CHYP pronounced "chip" is a group of fun professionals under 40 that meets the first Tuesday of each month for networking, professional development and community service. 
Learn More
Women's Events
Quarterly Socials & Luncheons
Women's Events
Our Chamber's strong group of professional women gather quarterly for networking and learning opportunities. Sponsored by The Women of State Farm. 
Learn More
Ribbon Cuttings
Periodic Celebrations of New Business Openings, Anniversaries, and Milestones. 
Ribbon Cuttings
Celebrations and acknowledgement of special milestones for new and existing Chamber member businesses. 
Schedule a Celebration
State of the Community Report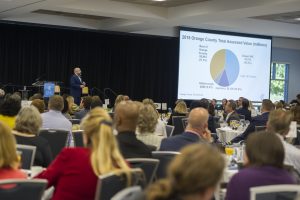 Thursday, September 10, 2020 (Virtual)
About: Born out of graduate student research at UNC-Chapel Hill, this annual event is a comprehensive briefing featuring the latest data on the well-being of Greater Chapel Hill-Carrboro across social, economic, and environmental indicators. Follow the ongoing conversation at #CHCSOTC.
Resources:  
Salute to Community Heroes
Business Excellence Awards