Central Carolina Women in Business Luncheon
Date and Time
Tuesday May 21, 2019
11:30 AM - 1:00 PM EDT
Tuesday, May 21
11:30 a.m.- 1:00 p.m.
Location
Chapel Hill Country Club
103 Lancaster Dr.
Chapel Hill, NC 27517
Fees/Admission
WIB Members - $35
Non-Members - $50

Note: If you are a member of Central Carolina Women in Business and/or a member of the Hillsborough or Alamance Chambers, but not a member of the Greater Chapel Hill-Carrboro Chamber:
click "Register Online" above
click "Register Now" on the Chapel Hill-Carrboro Chamber event page
click "Click here to continue your event registration" under "Not a member?" to complete your registration.
Simply toggle the Central Carolina Women in Business member price at checkout.
Need help? Call/email Vanessa: 919-357-9989 vwatson@carolinachamber.org
Description
Join the Central Carolina Women in Business group for its Quarterly Luncheon, hosted by the Greater Chapel Hill-Carrboro Chamber. Enjoy a delicious lunch at the Chapel Hill Country Club, networking opportunities, and a keynote address presented by Elizabeth Trinkaus of Pinnacle View.
Elizabeth delights in inspiring her audiences with in-the-moment tools to own their worth, walk with certainty that they are enough, and fall back in love with their life.

Her three-step process has been delighting women across the globe for decades.

Elizabeth's motto: Love the Life You Live!

Signed copies of her book, Enough Already, Yes, You Are… will be available following the keynote.
Images
Chapel Hill Young Professionals
Under 40 Monthly Networking
CHYP
CHYP pronounced "chip" is a group of fun professionals under 40 that meets the first Tuesday of each month for networking, professional development and community service. 
Learn More
Women's Events
Quarterly Socials & Luncheons
Women's Events
Our Chamber's strong group of professional women gather quarterly for networking and learning opportunities. Sponsored by The Women of State Farm. 
Learn More
Ribbon Cuttings
Periodic Celebrations of New Business Openings, Anniversaries, and Milestones. 
Ribbon Cuttings
Celebrations and acknowledgement of special milestones for new and existing Chamber member businesses. 
Schedule a Celebration
State of the Community Report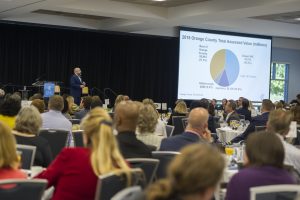 Thursday, September 10, 2020 (Virtual)
About: Born out of graduate student research at UNC-Chapel Hill, this annual event is a comprehensive briefing featuring the latest data on the well-being of Greater Chapel Hill-Carrboro across social, economic, and environmental indicators. Follow the ongoing conversation at #CHCSOTC.
Thank you to the 2020 Data Partners: Carolina Demography, Orange County, Partnership for a Sustainable Community, Town of Chapel Hill, Town of Carrboro and Town of Hillsborough
Resources:  
Salute to Community Heroes
Business Excellence Awards