Bell Leadership: Adapt to Now, Plan for the Future
Date and Time
Friday Sep 18, 2020
10:00 AM - 11:30 AM EDT
September 18, 2020
10:00 -11:30 a.m.
Location
Zoom Link provided after registration
Fees/Admission
$25 for individual ticket
$50 for a team of 3
$100 for a team of 5
Description
90 Minute Team Zoom Session on September 18
Planning and preparing for the future of a business is at best difficult under "normal" circumstances. The process of engaging teams to develop a clear direction and a concise plan takes time, diligence and leadership. Planning for uncertainty can be messy, non-linear and many times outside the scope of the business expertise of many organizations.

The "new normal" of rapid, constant change and uncertainty has complicated our ability to plan for tomorrow, let alone weeks and months in advance. Our shifting business environment causes momentous impacts on a daily, sometimes hourly basis. How then, under these conditions, can a business begin to make plans for its future? How can we evaluate the current ocean in which we are swimming and create a plan and strategy that is flexible and adaptable to future waves from many different directions?

For over 50 years, Bell Leadership has worked with organizations of all sizes, and across multiple industries, to evaluate their unique environment and create robust and agile strategies to move forward effectively. Using proven methods that involve the entire organization, we help companies form, execute, and adapt scenario plans to continue building in a positive and effective direction.

We invite leaders and their teams from The Chamber's membership to join us to learn and work with a dynamic model to help organizations think creatively about the problems facing the business and begin to move forward with confidence. In this interactive virtual seminar, we will provide a trusted framework for teams to evaluate current and future challenges facing their business. Teams will leave the session having evaluated significant forces impacting their business and a framework to plan how to best adapt to those challenges. These takeaways can have an immediate and significant impact on the trajectory of your organization.

We will host this 90-minute session through Zoom, employing breakout groups and interaction to help your team work together to develop strategies to adapt to an ever-changing environment. Attendees are highly encouraged to be present on video. We look forward to working with you and your team .
Chapel Hill Young Professionals
Under 40 Monthly Networking
CHYP
CHYP pronounced "chip" is a group of fun professionals under 40 that meets the first Tuesday of each month for networking, professional development and community service. 
Learn More
Women's Events
Quarterly Socials & Luncheons
Women's Events
Our Chamber's strong group of professional women gather quarterly for networking and learning opportunities. Sponsored by The Women of State Farm. 
Learn More
Ribbon Cuttings
Periodic Celebrations of New Business Openings, Anniversaries, and Milestones. 
Ribbon Cuttings
Celebrations and acknowledgement of special milestones for new and existing Chamber member businesses. 
Schedule a Celebration
State of the Community Report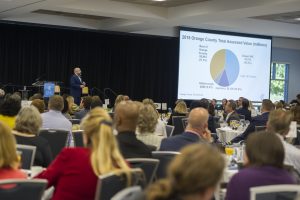 Thursday, September 10, 2020 (Virtual)
About: Born out of graduate student research at UNC-Chapel Hill, this annual event is a comprehensive briefing featuring the latest data on the well-being of Greater Chapel Hill-Carrboro across social, economic, and environmental indicators. Follow the ongoing conversation at #CHCSOTC.
Thank you to the 2020 Data Partners: Carolina Demography, Orange County, Partnership for a Sustainable Community, Town of Chapel Hill, Town of Carrboro and Town of Hillsborough
Resources:  
Salute to Community Heroes
Business Excellence Awards