Alicia's Arthritis Foundation Exercise Class Monday, Wednesday, Fridays (Virtual))
Date and Time
Monday Jul 20, 2020 Monday Nov 30, 2020
Mondays, Wednesday, and Fridays through November 30, 2020 11:00AM-12:00PM
Fees/Admission
free/contributions accepted
Contact Information
lbrown@orangecountync.gov
Send Email
Alicia's Arthritis Foundation Exercis...
Description
Alicia's Arthritis Foundation Exercise Class (Live) Monday, July 20, 2020 This "virtual" Evidence-Based Program is designed to stretch and strengthen your entire body for maximum movement and endurance, this class is an excellent way to improve joint flexibility, muscular strength and toning. You will gain knowledge of beneficial movements that can be applied to daily living at home. Join us today! Please download and import the following iCalendar (ics) files to your calendar system. Daily: https://us04web.zoom.us/meeting/upUtcOmrrz8qG9Ya5TPNzRmFEiebCkqigiK8/ics?icsToken=98tyKu6prjwqGdWRsBiFR7YcAo_Cc-nzmClfjfpknUrRMw5JUA7QE-tHMJF0AdHX Program supported in part by the Health Promotion/Disease Prevention Funds from NCDHHS - Aging and Adult Services. As a consumer, you may make a voluntary contribution to this program. Contributions will be used to expand the program and are confidential. Services will not be reduced or terminated for failure to contribute.
Chapel Hill Young Professionals
Under 40 Monthly Networking
CHYP
CHYP pronounced "chip" is a group of fun professionals under 40 that meets the first Tuesday of each month for networking, professional development and community service. 
Learn More
Women's Events
Quarterly Socials & Luncheons
Women's Events
Our Chamber's strong group of professional women gather quarterly for networking and learning opportunities. Sponsored by The Women of State Farm. 
Learn More
Ribbon Cuttings
Periodic Celebrations of New Business Openings, Anniversaries, and Milestones. 
Ribbon Cuttings
Celebrations and acknowledgement of special milestones for new and existing Chamber member businesses. 
Schedule a Celebration
State of the Community Report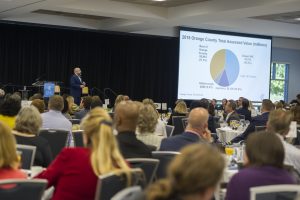 Thursday, September 10, 2020 (Virtual)
About: Born out of graduate student research at UNC-Chapel Hill, this annual event is a comprehensive briefing featuring the latest data on the well-being of Greater Chapel Hill-Carrboro across social, economic, and environmental indicators. Follow the ongoing conversation at #CHCSOTC.
Thank you to the 2020 Data Partners: Carolina Demography, Orange County, Partnership for a Sustainable Community, Town of Chapel Hill, Town of Carrboro and Town of Hillsborough
Resources:  
Salute to Community Heroes
Business Excellence Awards