2021 Hybrid Leadership Chapel Hill-Carrboro
Date and Time
Thursday May 6, 2021
Requirements and draft 2021 schedule will be posted on the Leadership page.
Fees/Admission
$1,300 for Members
$1,500 for Non-members
*Chamber Major Investors are entitled to significant discounts. Learn more here.
Description
?Never doubt that a small group of thoughtful, committed citizens can change the world. Indeed, it is the only thing that ever has.? (Margaret Mead)
What: Leadership Chapel Hill-Carrboro (Leadership) is an intensive program designed to inform, develop, and engage committed and emerging leaders in Greater Chapel Hill.

Why: Leadership participants broaden their understanding of issues and opportunities facing the region, refine their leadership skills, and are invited to deepen their influence through ongoing networking and service opportunities.

How: Leadership is a cohort-based learning experience with nine sessions over four months that combine presentations, tours, experiential learning activities, and facilitated dialogue to help participants better understand key issues in our region related to government, education, health and human services, economic development, and the environment.

2020 Program: Registration for the 2021 Leadership Program is open with priority consideration for applications submitted by Friday, April 30, 2021. Registration will close on Monday, May 3, 2020. By enrolling, participants commit to the graduation expectations and payment requirements (*partial scholarships are available).

Learn More: Review the 2019 draft schedule and hear from a recent Leadership graduate.
Chapel Hill Young Professionals
Under 40 Monthly Networking
CHYP
CHYP pronounced "chip" is a group of fun professionals under 40 that meets the first Tuesday of each month for networking, professional development and community service. 
Learn More
Women's Events
Quarterly Socials & Luncheons
Women's Events
Our Chamber's strong group of professional women gather quarterly for networking and learning opportunities. Sponsored by The Women of State Farm. 
Learn More
Ribbon Cuttings
Periodic Celebrations of New Business Openings, Anniversaries, and Milestones. 
Ribbon Cuttings
Celebrations and acknowledgement of special milestones for new and existing Chamber member businesses. 
Schedule a Celebration
State of the Community Report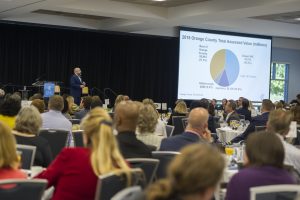 Thursday, September 10, 2020 (Virtual)
About: Born out of graduate student research at UNC-Chapel Hill, this annual event is a comprehensive briefing featuring the latest data on the well-being of Greater Chapel Hill-Carrboro across social, economic, and environmental indicators. Follow the ongoing conversation at #CHCSOTC.
Thank you to the 2020 Data Partners: Carolina Demography, Orange County, Partnership for a Sustainable Community, Town of Chapel Hill, Town of Carrboro and Town of Hillsborough
Resources:  
Salute to Community Heroes
Business Excellence Awards