2019 New Year Visioning Playshop for Women
Date and Time
Saturday Jan 26, 2019
2:00 PM - 7:00 PM EST
Saturday, January 26 | 2:00 - 7:00 pm EST
Location
The Parlour at Manns Chapel 175 Poythress Road Chapel Hill, NC 27516
Fees/Admission
Cost: $125
Website
Contact Information
NC Center for Resiliency, PLLC Register at https://bit.ly/2H2e9f4
Send Email
2019 New Year Visioning Playshop for ...
Description
CALLING ALL WOMEN!! Let's start off 2019 by resetting our internal GPS and living our very best lives with intention..together! The New Year is a great time to take an inventory of our life and set our intentions and goals for the following year. We will say goodbye to what is no longer serving us and spend the evening getting clear on what we really want to manifest in our life in 2019 with our fellow sisters. If you can see it and feel it, you can create it! ? How will we spend the day? We will start with yoga, light movement and intention setting. We will locate what we want to manifest in the felt sense of our bodies, participate in rituals that you can take with you to use throughout the year to keep you on track, complete visioning exercises and small group activites including making of a home visioning board. Snack, light dinner and supplies are provided in the program fee- just show up wearing comfy clothes and get ready to CREATE THE LIFE YOU WANT! Now is the time to get clear on our personal and professional goals.
Chapel Hill Young Professionals
Under 40 Monthly Networking
CHYP
CHYP pronounced "chip" is a group of fun professionals under 40 that meets the first Tuesday of each month for networking, professional development and community service. 
Learn More
Women's Events
Quarterly Socials & Luncheons
Women's Events
Our Chamber's strong group of professional women gather quarterly for networking and learning opportunities. Sponsored by The Women of State Farm. 
Learn More
Ribbon Cuttings
Periodic Celebrations of New Business Openings, Anniversaries, and Milestones. 
Ribbon Cuttings
Celebrations and acknowledgement of special milestones for new and existing Chamber member businesses. 
Schedule a Celebration
State of the Community Report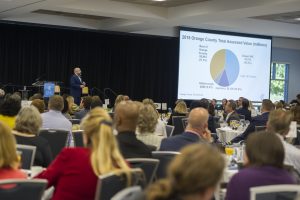 Thursday, September 10, 2020 (Virtual)
About: Born out of graduate student research at UNC-Chapel Hill, this annual event is a comprehensive briefing featuring the latest data on the well-being of Greater Chapel Hill-Carrboro across social, economic, and environmental indicators. Follow the ongoing conversation at #CHCSOTC.
Thank you to the 2020 Data Partners: Carolina Demography, Orange County, Partnership for a Sustainable Community, Town of Chapel Hill, Town of Carrboro and Town of Hillsborough
Resources:  
Salute to Community Heroes
Business Excellence Awards