2019 Coffee with the Candidates
Date and Time
Wednesday Sep 4, 2019
8:00 AM - 10:00 AM EDT
Wednesday, September 4, 2019
8:00 - 10:00 a.m.
Location
The Siena Hotel
1505 E Franklin St.
Chapel Hill, NC 27514
Fees/Admission
$35 for Chamber members
$50 for non-members
Contact Information
Katie Loovis, Vice President for External Affairs
Send Email
Description
In one quick and delicious swoop, "Coffee with Candidates" gives you a convenient and easy way to connect with nearly all candidates for relevant offices, including:
Chapel Hill Mayor and Town Council
Carrboro Mayor and Board of Aldermen
Hillsborough Mayor and Board of Commissioners
Chapel Hill-Carrboro City Schools Board of Education
Allow us to help you meet your candidates and navigate the legislative lay of the land.
---
Decisions made by elected leaders have consequences for your business and our community. For better or worse, elections matters. In advance of the event, we invite you to follow our
Election Hub
for updates on who is running for office, their responses to our candidate survey, and video interviews with each candidate via the (un)forum.
---
Chapel Hill Young Professionals
Under 40 Monthly Networking
CHYP
CHYP pronounced "chip" is a group of fun professionals under 40 that meets the first Tuesday of each month for networking, professional development and community service. 
Learn More
Women's Events
Quarterly Socials & Luncheons
Women's Events
Our Chamber's strong group of professional women gather quarterly for networking and learning opportunities. Sponsored by The Women of State Farm. 
Learn More
Ribbon Cuttings
Periodic Celebrations of New Business Openings, Anniversaries, and Milestones. 
Ribbon Cuttings
Celebrations and acknowledgement of special milestones for new and existing Chamber member businesses. 
Schedule a Celebration
State of the Community Report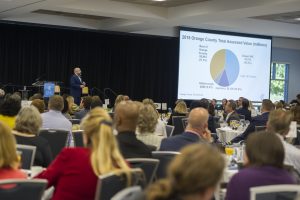 Thursday, September 10, 2020 (Virtual)
About: Born out of graduate student research at UNC-Chapel Hill, this annual event is a comprehensive briefing featuring the latest data on the well-being of Greater Chapel Hill-Carrboro across social, economic, and environmental indicators. Follow the ongoing conversation at #CHCSOTC.
Resources:  
Salute to Community Heroes
Business Excellence Awards